How to Decorate a Half-Wall Room Divider
Half-walls are built-in room dividers that visually separate two spaces without completely closing off one area from another, thereby creating an open and airy feeling between two separate rooms. Utilize the half-wall in your decor, making it work for both rooms. The decor can be different on either side of the half-wall, as long as there is at least one color or element present in both rooms to connect and unite the space.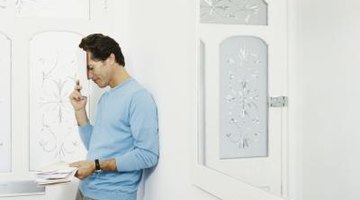 Step 1
Paint each side of the wall a different color to reflect the room that sees that portion of the wall. For example, paint one side blue to match your blue and cream living room and the other side yellow to complement your yellow and cream dining room. The half-wall can also be a great place to put up textured wallpaper in a pattern or colors that you wouldn't feel comfortable putting on a whole wall.
Step 2
Place furniture in front of the wall or looking toward the wall, depending on the setup of the room. For example, push a chair or sofa against the half-wall in a small living room and show off a buffet or sofa table on the dining room side. Avoid furniture in tight spaces, such as a half-wall in a small bathroom. Alternatively, only use one side of the wall to place furniture against. Arrange the furniture to face the wall if you use the area as a focal point in both rooms, such as if you build open shelves above the half-wall.
Step 3
Add small decorative items on the ledge of the half-wall or on top of a table or shelf on either side of the wall. A row of votive candles can dress up the ledge without attracting too much attention and works for a bathroom or entryway half-wall. Vases, pottery, bud vases, houseplants, knickknacks, pictures or trophies are other options.
Step 4
Hang a chandelier, plants, lights or shelves above the half-wall if you want a more dramatic look or more privacy. Alternatively, hang a curtain of beads or panels that can be moved to the side when you do or do not want the rooms to be separate from each other.
Writer Bio
Janece Bass is a freelance writer specializing in weddings, family, health, parenting, relationships, dating, decorating, travel, music and sports. She has been writing for more than 15 years and has numerous published pieces on various websites and blogs. Bass has also ghostwritten various fiction-based novels.
Photo Credits
Digital Vision./Digital Vision/Getty Images
More Articles