Decorating a Knee Wall
A knee wall is also known as a half or partial wall. The term is used for walls that are under three feet tall. Usually, knee walls are actually right at three feet tall, which means that most knee walls are much taller than a person's knees.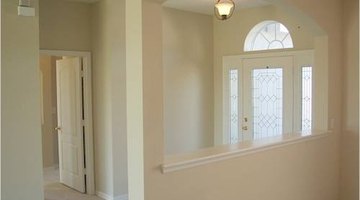 Half Wall
There are many uses for a knee wall. Sometimes knee walls are used to divide a room. Often they are used to define the foyer area. Sometimes they are used in eat-in kitchens, to divide the cooking area from the eating area. They are also used in bathrooms to hide a toilet, shower or bathtub.
Because they are so low, however, knee walls can be hard to decorate. Items placed on top of a knee wall tend to be below eye level, so they are either not seen entirely or they are knocked off the wall. For this reason, knee walls are difficult to decorate with knicknacks or plants.
Paint and Wallpaper
One of the best ways to decorate a knee wall is to use paint or wallpaper. Knee walls can be painted one shade darker than the rest of the room, or they can be painted a different, complementary shade. For example, a knee wall in a foyer can be painted a shade that will match the foyer rug. If the wall has moulding along the bottom or top, it can be painted a different , contrasting color, such as stark white. Vertical stripes can be added to the knee wall in a slightly lighter or darker shade to add interest.
Wallpaper can also be used on a kneewall. A pattern that might be too busy for an entire room might look just right on a knee wall. Alternately, a border can be placed just under the top moulding of a knee wall.
Architectural Details
The other way to decorate a knee wall is to make it interesting using architectural details. For example, a shelf can be added along the top of the wall. A small bowl can be placed on the shelf to hold keys or spare change. Moulding could also be added along the top and bottom of the wall. Wainscoting is a great way to give a knee wall texture. In addition, a dramatic way to set off a knee wall is to add a column running from the end of the wall to the ceiling.
Finally, consider the location of the wall. Is it in the foyer? Try adding coat or hat hooks along the top edge of the wall. If the knee wall is in the bathroom, a towel rack with some pretty towels can add pizazz.