Late 1800s Decor
Late 1800s decor was generally characterized by rich, eclectic and ornate pieces. Decorating during this time was heavily influenced by the Industrial Revolution and Victorian era. Excess wealth during this period allowed for extravagant and expensive furnishings and decorative accessories. The import and export business between the colonies increased, bringing in elegant and embellished goods from afar.
Wealth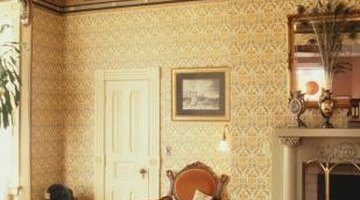 The Victorian era coincided with the Industrial Revolution, which brought forth an increase in prosperity due to advances in technology and other fields. There was also an increase in wealth due to imports and trades between the colonies. This wealth allowed for expensive furnishings and decor, playing heavily on the decorative styles of the late 1800s. Queen Victoria had intricate decor tastes and never exposed the bare bones of furnishings and architecture. The period was characterized by excessive decorations and embellished fabrics and furnishings.
Colors
Decor colors were deep and rich. The colors used were influenced from those popular in Asia, Africa and the Orient. Favorite color choices included jewel tones, deep reds, emerald and forest greens, gold, and rich browns.
Windows
Stained glass windows displaying ornate scenes and designs were common. The windows were covered with heavy fabrics and a thick underlining of lace. Curtains were trimmed with decorative fringe and cording, and swags were roped with tassels. Curtains were often made from needlepoint. Favorite fabric choices were damask, velvet and silk. The fabric colors were rich and deep.
Walls
The walls consisted of dark wood molding and cornices. Patterned wallpapers were in style, particularly floral designs. Walls were sometimes covered in damask-like textures to form a decorative fabric-like coating.
Floors
Dark wood floors to match the wood used on walls were often installed in homes. Lush, patterned area rugs, such as Oriental rugs, were found in nearly every room. Decorative and colorful floor tiles were also used. The tiles were colorful, using bold reds, creams, greens and black.
Furniture
Furniture during this time was often machine-made in mass quantities. Middle-class citizens who gained wealth now purchased such furnishings to mimic those used by the upper class and aristocrats. Ornate carved furnishings from dark wood was common. Dining tables were large and round with pedestal legs and topped with marble slabs. Overstuffed leather chairs could be found in sitting rooms and large mirrored hat stands in entryways. Furnishings were often upholstered in heavy fabrics and consisted of curved bags. Beds were oversized with carved canopies. Gilded claw-foot tubs adorned bathrooms. Other furniture items were large, heavy and ornately carved.
Accessories
Accessories were used in abundance, covering nearly every surface. The amount of accessories was a display of wealth and interests. Paintings and photographs were often displayed in embellished gold frames. Imports from former colonies were favored, such as arts from India, Africa and Australia. Books covered bookshelves. Bedrooms consisted of washstands holding artistic washbowls. Botanical prints were displayed, as were animal trophies and Grecian busts. Needlepoint pillows decorated chairs and couches. Fabric wall hangings were displayed on walls. Large flower arrangements were displayed in decorative vases, and potted palm plants were common.
References
"Victorian Details: Decorating Tips & Easy-to-Make Projects"; Caroll McKanna Shreeve; 2006
"The Complete Idiot's Guide to Decorating Your Home"; Mary Ann Young; 2000
Writer Bio
Audrey Pannell has been writing since the year 2000. She has written for AOL and eHow. She holds a Bachelor of Science in public administration from the University of Texas at Dallas and also completed a certification course to obtain a teaching certificate for early childhood through fourth grade.
Photo Credits
Jupiterimages/Photos.com/Getty Images
More Articles