Gooseneck Rocking Chair History
Gooseneck rocking chairs are among the most popular types of rocking chairs, with a history stretching back to artisan carpenters in 18th century America. The influence of the Gooseneck design can be seen in contemporary furniture, including everything from dining tables to grandfather clocks.
Origins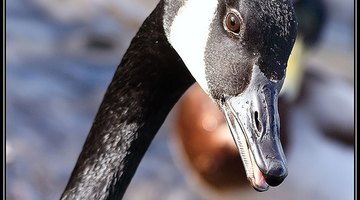 Rocking chairs were first developed during the early 1700s. These early chairs were traditional standing chairs mounted onto curved bases, also known as rockers. By the 1800s, rocking chairs had become common household furniture and included chair styles for indoor areas, outdoor porches and gardens.
Creation
During the 1700s, artisans created the Gooseneck rocking chair as a comfortable but elegant version of the rocking chair. Often featuring durable leather upholstery and brass accents, these chairs became popular in the 19th century.
Development
By the 1900s, Gooseneck rocking chairs featured a variety of materials and carvings, including mahogany wood, delicate roses and naturally dyed fabrics. The popularity of the chairs resulted in a flurry of imitation Gooseneck rockers during the 1930s and 1940s.
Features
A Gooseneck rocking chair has arms and legs carved to resemble the neck of a goose. Gooseneck rocking chairs often also have additional ornamental goose heads and necks engraved on the head, arms and other parts of the chair. The chair may be upholstered in a durable fabric or leather.
Influence
In addition to rocking chairs, Gooseneck design can also be found on rocking cradles and standing chairs, lamps and clocks and many other types of furniture. Gooseneck rocking chairs are still manufactured today. An antique Gooseneck rocking chair in good condition is considered a collector's item.
References
Field Guide to American Antique Furniture; Joseph T. Butler; New York City: Henry Holt and Company; 1985
Resources
Writer Bio
Christine Switzer has been a freelance writer since 2007. She contributes to travel and regional periodicals such as "Georgetown View" and "Burlington the Beautiful" and she enjoys writing on travel, lifestyle and the workplace. Switzer holds a Bachelor of Arts in journalism and a Master of Arts in English and has taught university courses in communication, public speaking and journalism.
Photo Credits
Image by Flickr.com, courtesy of David Friel
More Articles