How to Clean Sticky Leather Furniture
Leather furniture gives a home a rich luxurious feel. It's easier to clean than fabric furniture and can last for years if properly maintained. Over time, cleaners, polishes and other substances can build up and leave a sticky residue on the furniture that can make it feel unclean.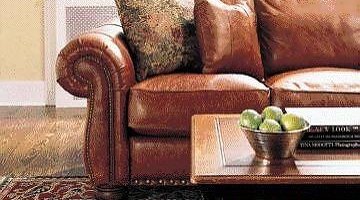 Cleaning leather furniture is a simple chore and soon your leather furniture can be relieved of stickiness and become a joy to sit upon again.
Things You Will Need
Distilled water
Dish soap
Soft clean cloth
Use a soft bristle brush attachment on the vacuum cleaner and vacuum the furniture to remove any loose dirt and debris. Take the cushions out and vacuum underneath them as well.

Mix 2 tablespoons of dish soap with 1 quart of distilled water.

Use a soft clean cloth that has been dipped in the solution and wrung out well to wipe down the furniture. Some light scrubbing may be required on the stickier areas.

Use a separate cloth dipped in clear water and wrung out to "rinse" the furniture.

Dry the furniture with a soft clean dry towel.

Tip

To restore the shine on leather furniture, spray WD-40 onto it and buff with a soft clean dry cloth.

Warning

Regular tap water can be harmful to leather as it may contain chlorine and might damage the leather. Test an inconspicuous area of the leather before proceeding to clean it with this method.
Writer Bio
Melynda Sorrels spent 10 years in the military working in different capacities of the medical field, including dental assisting, health services administration, decontamination and urgent medical care. Awarded the National Guardsman's Medal for Lifesaving efforts in 2002, Sorrels was also a nominee for a Red Cross Award and a certified EMT-B for four years.
Photo Credits
www.evalu8.org
www.evalu8.org
More Articles