What Is a Chaise Recliner?
A chaise recliner, also known as a chaise lounge or "chaise longue," is an extended reclining chair which allows you to extend your legs. It also refers to earlier styles which were a cross between a daybed and a couch. In North America, it is typically upholstered with fabric and used indoors, while other cultures expand the use of the term to include deck chairs or poolside loungers.
Modern Chaise Recliners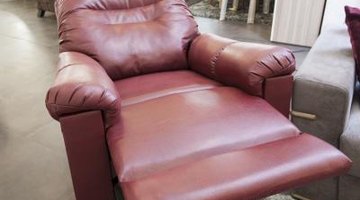 Swivel and rocking features are common with indoor chaise recliners, and most recline into multiple positions. The footrest sometimes moves in unison with the seat and back. Contoured padding provides support for the back. Extras in modern chaise recliners include built-in cup holders, massage functions and heat. Some offer the option of power buttons to control the swivel and gliding functions.
Original Chaise Longues
In previous centuries, a chaise was a long couch with one or both ends raised like a chair. Various versions of the chaise existed in both Egypt and France. The North American term "chaise lounge" is a folk adaptation of the French "chaise longue," meaning "long chair." The chaise longue was popular in the United States during the Victorian era of formal sitting rooms with ornate furnishings.
References
Resources
Writer Bio
Wendy K. Leigh is a travel writer and photojournalist from Seattle. She is the Editor of Islands America, a travel website for visiting islands within the United States. She also writes about home design, food and historical architecture. Leigh holds a Bachelor of Arts in English from the University of Washington.
Photo Credits
PaulVinten/iStock/Getty Images
More Articles