How to Add a Cushion to a Wood Stool
Sitting on a hard surface, such as wood for a prolonged period of time, can lead to soreness and squirming to get comfortable. Stool cushions create padding, offering more support while increasing the height of seating and enhancing the décor. You can choose from a number of cushion materials and designs to increase the luxury and style of wood stools.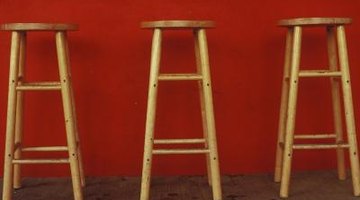 Step 1
Measure the length and width of a rectangular or square stool, or the diameter of circular one, with a tape measure. Measure the distance between the seat of the stool and the bar or table.
Step 2
Choose a cushion thickness based on the amount of padding you desire and the height of the bar or table. The bar or table should stand about 10 inches higher than the seat of the stool. Bar stools typically sit at 30 inches high and counter stools sit at 24 to 26 inches high.
Step 3
Pick a durable fabric, such as cotton or polyester, and pick a cushion pattern or color that matches the color scheme and décor of the room that the stools are in. Patterned or bold colored cushions create a focal point, while neutral or light colored cushions blend in.
Step 4
Place the cushion on the seat of the wood stool. Tie the ties that hang down from the cushion around the stool legs where the legs meet the seat. Pull the ties tightly around the legs and tie a knot and bow to secure the cushion in place so it does not slide around on the stool.
Resources
Writer Bio
Taylor DiVico is a professional songwriter, content writer, fiction novelist and poet with more than 15 years of experience. DiVico holds a B.A. in philosophy from the University of Rhode Island and an M.S. from Syracuse University.
Photo Credits
NA/AbleStock.com/Getty Images
More Articles