Care of Cotton Lawn Fabric
Cotton lawn fabric is not a fabric used for lawn furniture. Instead, it is a finely woven cotton fabric that resembles linen and is used in children's clothing, pajamas and as quilting material. Unlike traditional cotton clothing, lawn fabric resists wrinkles and has a soft, silky feel. The lightweight fabric is perfect for use in summer clothing or for layering in other seasons.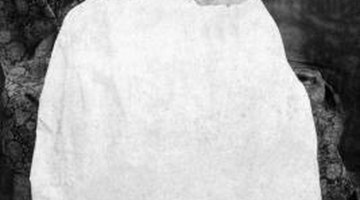 Wash lawn fabric in cool water using the delicate cycle of the washing machine and a detergent formulated for delicate clothing.

Spread out a heavy bath towel and place the lawn fabric on top. Roll the towel to remove excess moisture from the garment.

Hang the garment on a wooden or plastic coat hanger in a warm area to completely dry.

Iron with a warm iron to remove any wrinkles that may be in the fabric.
References
Tips
Cotton lawn fabric is often used for christening gowns.
It is believed that "lawn" fabric was invented in the 19th century.
Warnings
Always read the label on your particular fabric to be sure there are not any special instructions.
Photo Credits
Jupiterimages/Comstock/Getty Images
More Articles