How to Remove a Musty Smell From Linen Clothing
Linen, one of the world's oldest natural fabrics, was used in ancient Egypt, according to Trim Fabric. Although durable, the fabric requires gentle washing and mild detergents, and some linen materials must be dry-cleaned only. When removing musty smells from linen clothing, you need to follow the basic cleaning rules for the fabric to ensure its quality. With the right procedures, you can remove musty smells from linen clothing without damaging the material.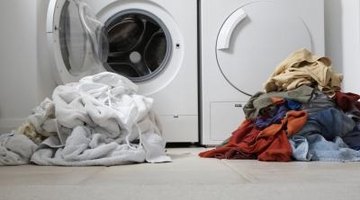 Place towels on a picnic or patio table. Make sure the sun shines directly on the table. Lay the linen clothing onto the towels and allow the sun to kill any remaining mildew on the fabric. Let the clothing remain in the sun for 2 to 3 hours.

Wash the clothes in warm water if allowed by the manufacturer. Place the linen clothing in the washer and add 1 tbsp. of mild liquid detergent. Set the washer to the delicate cycle. You may also hand wash the linen fabric in a large sink with warm water and the mild liquid detergent. Add vinegar to the rinse water in the sink after removing all the soap from the fabric.

Add 3/4 cup of white vinegar to the rinse cycle in the washer. Smell the clothing after removing from the wash. If the musty smell remains, repeat washing using the liquid detergent and the white vinegar in the rinse cycle.

Dry the linen clothing on the delicate cycle of the dryer or hang on a clothesline to dry.
References
Tips
If your linen clothing requires dry-cleaning only, take it to a dry-cleaning professional for help in ridding the garment of the musty smell.
Avoid wringing water from the linen fabric. Squeeze the fabric gently to remove excess water.
Writer Bio
Constance Barker, located in the hills of southern Ohio, is the owner and writer of several financial, credit report and travel websites. She started writing in 1999 for private clients and began creating website content in 2004. She gained expertise in home improvement after she and her husband built their home themselves.
Photo Credits
Martin Poole/Lifesize/Getty Images
More Articles