How to Remove Heavy Smoke Odor From Dry-Clean-Only Clothes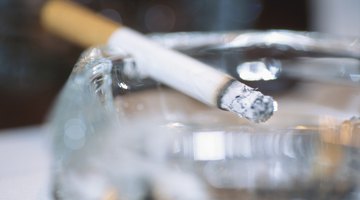 When your dry-clean-only clothing becomes saturated with the smell of smoke, you might fear you'll never get the odor out. Taking your clothes for a professional dry-cleaning is your best bet for getting rid of odors, but if you're unable to do so, try a home remedy. Not only are some dry-clean-only garments actually washable, home dry-cleaning kits are available in supermarkets. There may be no need to make the trip to the cleaner's with proper odor-removal techniques.
Step 1
Hang the clothes in a small room such as a laundry room or bathroom. Fill three or four small bowls with white vinegar and place them near the garments. Close the windows and door and leave the room sealed overnight.
Step 2
Hang the clothes outdoors in the sunlight, preferably in a breezy area. Leave the clothes outdoors for a day or two. If you're worried about fading from sunlight, hang them in a shady area.
Step 3
Use a home dry-cleaning kit in the dryer. Place the garment in the large bag with a solvent sheet, seal the bag and put it in the dryer. Run the dryer according to the kit's directions.
Step 4
Steam the garments with a hand-held clothing steamer. Steaming can set stains, so use a home dry-cleaning kit to get rid of stains first.
Step 5
Wash cotton, linen, polyester or wool by hand if all else fails. Some clothes are labeled "dry-clean only" despite being washable. Use cold water and a detergent formulated to remove strong odors, such as a liquid detergent containing oxygen bleach. When in doubt about whether or not an item is washable, test a small, inconspicuous piece, such as an inner seam, first. Hang clothes to dry instead of putting them in the dryer.
Warning
Getting some garments wet will damage them. Rayon, silk, leather, suede and blended-fiber fabrics should always go to the dry cleaner.
Things You Will Need
White vinegar
Small bowls
Home dry-cleaning kit
Clothing steamer
Laundry detergent
References
Writer Bio
S.R. Becker is a certified yoga teacher based in Queens, N.Y. She has a Master of Fine Arts in creative writing and has worked as a writer and editor for more than 15 years. Becker often writes for "Yoga in Astoria," a newsletter about studios throughout New York City.
Photo Credits
Hemera Technologies/AbleStock.com/Getty Images
Hemera Technologies/AbleStock.com/Getty Images
More Articles