How to Remove Yellow Stains From Whites
Nothing is more embarrassing than having your white clothes turn a sour shade of yellow. Of course, you want to get these stains out and prevent any further yellowing. With the use of a simple household cleaner, you can restore your white clothing and make it look as great as the day you purchased it.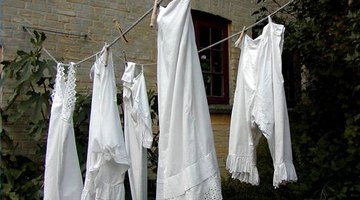 Spray the Lysol mildew remover on the article of clothing where the yellowing has occurred.

Let the article of clothing sit undisturbed for roughly 30 minutes.

Place the article of clothing in the washing machine.

Wash the article of clothing as you would normally.

Dry the article of clothing as usual.
Tips
Always test the cleaner on a small section of the article of clothing that you are attempting to remove the stains on. This will tell you if the cleaner will ruin your article of clothing or not. If the yellowing of the stain seems severe, or very dark yellow, then you can let the article of clothing soak in warm water for an hour, then wash as usual.
Warnings
Never use bleach alone on white clothing to remove stains as this only causes yellowing of the fabric.
Writer Bio
Carly Kullman has always been an avid writer, finally stepping out into freelance writing two years ago. She has a strong passion for health-related titles and loves bringing what she learns from her job in the ICU at the hospital into her writing. Carly also writes for Associated Content, Helium, and Suite101. Carly has attended Illinois Valley Community College for nursing courses.
Photo Credits
More Articles