How to Remove Stains from Velour Clothes
When you want clothing that wears comfortably and looks stylish, velour can be an attractive fabric choice. Clothing separates made out of velour fabric have the comfort of a jersey knit, making them stretchy and soft with a fuzzy pile surface that gives the outer surface a soft and luxurious texture. Check the manufacturer washing instructions for washing recommendations. As long as machine washing is safe, you can remove stains from velour clothes at home.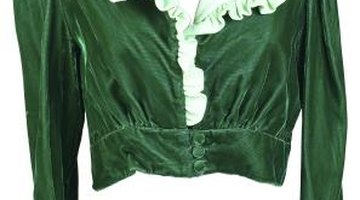 Lay out the thick towel onto a flat surface.

Place the velour clothing article onto the towel with the stained area facing down onto the towel.

Saturate the fabric with the pretreating solution and leave it on the towel for 10 to 15 minutes.

Blot at the stained area gently after the time elapses to transfer as much of the stain to the towel as possible. Do not rub the fabric briskly because you can damage the plush fibers.

Turn the garment inside out and place it into the washing machine. Add laundry detergent and set the water temperature to a warm, delicate cycle. Start the washing machine.

Remove the garment from the washing machine after the cycle finishes. Check to make sure the stain is gone. If the stain persists, repeat the pretreating and washing process a second time.

Place the item in the dryer with the heat set to low as long as the stain is gone.
References
"Sew Any Fabric"; Claire Shaeffer; 2003
Tips
Wash a velour garment in a laundering bag for delicate items to protect it from agitation.
Adding fabric softener to the washing machine can reduce the amount of lint that appears on the velour fabric as you wash it.
If the manufacturer recommends dry cleaning your velour garment, note the stain to the dry cleaner when you take the garment in for cleaning. Dry clean the garment as soon as possible after the stain occurs.
Writer Bio
Kathryn Hatter is a veteran home-school educator, as well as an accomplished gardener, quilter, crocheter, cook, decorator and digital graphics creator. As a regular contributor to Natural News, many of Hatter's Internet publications focus on natural health and parenting. Hatter has also had publication on home improvement websites such as Redbeacon.
Photo Credits
Hemera Technologies/PhotoObjects.net/Getty Images
More Articles