Types of Chairs & Stools
When designing any living space, some basic considerations must be met. Perhaps the most basic is that people need places to sit in order to be comfortable. Designers offer an almost endless variety of designs from which to choose when selecting individual size seating for the home, but there are some basic styles of chairs commonly found in home furniture stores. All of these come in almost any color or finish.
Wingback Chairs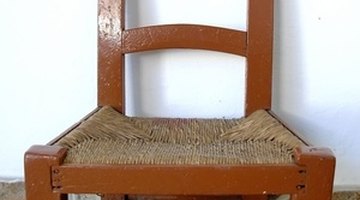 Wingback chairs have a distinctive appearance thanks to their tall backs and the "wings" that flare up from the arms to connect the arms and back. Historically, the wings that curved around the body from the back were a design feature meant to protect against drafts. A wingback will have four short wooden legs and upholstery on the seat, back and arms. Arm height and style may vary, but the backs are universally tall in comparison to the height of other styles of chair backs.
Club Chair
A club chair is built very low to the ground, and is meant to be the sort of chair that you can sink into in order to relax. They are often quite plush with deep cushioning, although some styles may forgo this. A club chair has arms and a low back. The back on many club chairs is not much higher than the arms. Many kinds of upholstery are used on club chairs, but the original club chairs were always covered in leather.
Rocking Chairs
Rocking chairs have been a symbol of relaxation for more than 300 years now. Instead of a stiff and upright chair, the rocker is fluid. Instead of having four legs placed on the ground, a rocking chair sits on two slightly curved rockers. This style of chair has a high back and arms. The original rocking chairs were made with wooden seats and backs, but now you can also find many versions with sprung seats and upholstered backs.
Stools
You'll also find seating options that aren't chairs at all, but stools. Typically, a stool is defined as a seat with no arms and high legs. However, there are varieties of stools that fall outside these basic parameters. The primary characteristic of most stools is their tall legs, which place the seat higher than a normal chair, suitable for use at a counter or bar. Seats may be cushioned, wooden, round or square. A common type of stool is the bar stool -- of which there are hundreds of styles -- because it can be used to provide seating at a high bar in a kitchen where a chair would place the seated person too low.
References
Resources
Writer Bio
Hans Fredrick has been busy in the online writing world since 2005. He has written on diverse topics ranging from career advice for actors to tips for motorcycle maintenance. He holds a Bachelor of Fine Arts from the University of Saskatchewan.
Photo Credits
More Articles