Alternative to Recliner Chair
While nothing is quite like the traditional reclining chair, there are a few comfortable alternatives available. Whether you use an indoor chaise lounge or a fainting couch, these long pieces of furniture allow you to sit in a reclining position. Other options available include a chair and an ottoman, or a zero-gravity chair.
Fainting Couch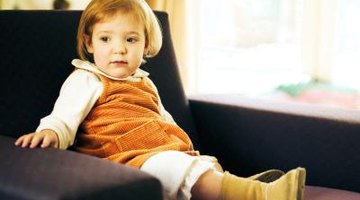 Use a fainting couch as an alternative to a reclining chair. This antique furniture piece has made a comeback in recent years and reproductions are available in most furniture stores. The couch is long and thin, and flares up with a back rest at one end. A fainting couch does not, however, have a way to recline your legs in a bent position the way a recliner does. It is called a fainting couch because it is a piece of furniture used during the Victorian age for women when they would feel lightheaded.
Chaise Lounge
Recline on a chaise lounge. This alternative to the traditional recliner is similar to the fainting couch, because both of these pieces have a backrest at one end. However, while the fainting couch offers a flat area to lie on, some chaise lounges are contoured to raise your knees, much like the position offered by a recliner chair. This piece of furniture takes up as much room as a couch would, though; a reclining chair would occupy less space.
Chair and Ottoman
Pull up a nice overstuffed easy chair and ottoman instead of a recliner. This furniture takes up about as much space as the recliner, but is more versatile because the ottoman can be moved away from the chair when not in use, allowing more space if needed. The chair and ottoman allow you stay in a sitting position while putting your legs up. This allows for a semi-reclined position, but not fully reclined like in a recliner.
Zero-Gravity Chair
Sit in a zero-gravity chair and you may never get up. The part of the chair that you sit on is in a fixed, reclining position. Your legs are slightly bent at the knees and your back is at a slightly reclined angle. The chair is attached to a foundation at two points and the fixed position you are sitting in allows you to swing forward and backward. This will not change your position in the chair; just the position of the chair with you in it. The angle you are sitting in remains the same.
References
Resources
Writer Bio
Roz Zurko is a full time freelance writer who lives in Westfield, Massachusetts. She has been writing for 22 years and is published on several internet literary sites and in The Westfield Evening News. She holds a Bachelor of Arts in Psychology from The University of New Haven and Westfield State College.
Photo Credits
Jupiterimages/Photos.com/Getty Images
More Articles