How to Lock Office Chair Height
Office chairs come in many different shapes and sizes with different amounts of control. Chairs with the most ergonomic features allow you to adjust not only your seat height, but your seat depth and backrest. It's important to have an office chair that makes you comfortable and supports your back, while helping you prevent any back injury. When purchasing an office chair, you should take your body type and use for the chair into consideration. Make sure you know how to properly adjust the chair height for your needs.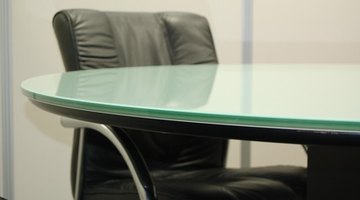 Step 1
Before you make any adjustments, read the chair manufacturer's instructions on how to properly adjust it. Learn all about the chair's adjustable features.
Step 2
Sit in the chair with your feet on the ground. You want to achieve a chair height that allows you to sit all the way back with your feet on the floor.
Step 3
Push the height adjustment lever backward to move the chair up and down. It is typically on the right side of the chair.
Step 4
Stand up off the chair slightly to reduce the pressure of the chair as you push the lever. This will raise the chair height.
Step 5
When you have found the correct position, push the lever forward to lock it into position.
References
Writer Bio
Amy Dombrower is a journalist and freelance writer living in Chicago. She worked in the newspaper industry for three years and enjoys writing about technology, health, paper crafts and life improvement. Some of her passions are graphic design, movies, music and fitness. Dombrower earned her Bachelor of Arts in journalism from The University of North Carolina at Chapel Hill.
Photo Credits
office chair and table image by Daria Miroshnikova from Fotolia.com
More Articles