How to Adjust Recliner Chairs
Reading a book or watching TV while sitting in a reclining chair is a rewarding way to unwind after a hard day's work. If you have a new reclining chair, you can learn how to operate it in a few minutes.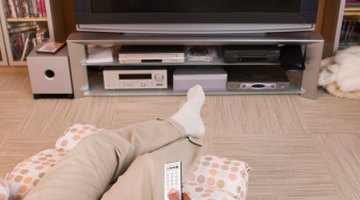 If your chair gives too much or too little resistance when tilting back, you can make a small adjustment to change its tension.
Move coffee tables or other pieces of furniture away from the front of the chair so they don't get in the way of the footrest.

Locate the lever or buttons that control the chair's recliner mechanism. The lever is typically located on the right hand side of the chair. Buttons are usually located on the chair's arm or side.

Sit in the chair. If the recliner mechanism is operated by a lever, lean back to put pressure on the back of the chair while pulling the lever up to recline the chair and lift the footrest. Keep leaning and pulling until the chair is reclined to your satisfaction, then let go of the lever to stop reclining. If your chair is operated by buttons, press the recline button to recline the chair and lift the footrest. Stop pressing when the chair is reclined to your satisfaction.

Lean forward in the chair, put pressure on the footrest and lift the lever up or press the release button to return the chair to its original position. Leave the chair in its original position and move to the next step if you need to adjust recliner tension.

Locate two wing nuts or thumb wheels on the bottom of the recliner. They should be positioned near the back or the center of the recliner's bottom.

Turn the nuts or wheels clockwise to increase tension. Turn them counterclockwise to reduce tension.
References
Writer Bio
Christina Sloane has been writing since 1992. Her work has appeared in several national literary magazines.
Photo Credits
Jupiterimages/Comstock/Getty Images
Jupiterimages/Comstock/Getty Images
More Articles