How to Stop Casters From Rolling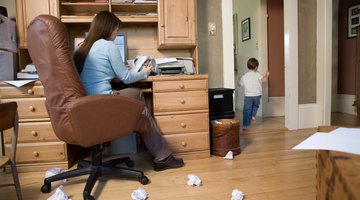 It isn't usually easy to move heavy furniture around your home. If your bed or chair has casters, though, it glides effortlessly across both hardwood and carpeted floors. Many people find wheeled furniture convenient, but if the casters roll without any resistance, they can turn your chair or bed into a safety hazard. If you have children or elderly relatives living at home with you, you may want to stop the casters from rolling around to prevent slips, falls and other injuries.
Step 1
Put an area rug underneath the chair or bed if it's in a room with hard floors. Alternatively, move the chair or bed into a carpeted room, if possible.
Step 2
Use the caster's wheel-locking mechanisms, if they have them. To find the locking mechanism, look for a small lever or button on the side or back of the wheels. Flip or turn the lever in one direction or the other to lock or unlock the wheels.
Step 3
Place a thick mat below the bed or chair. When you sit on the furniture, the wheels will sink into the mat, preventing it from rolling around.
Step 4
Install caster stoppers below the bed or chair. These stoppers have a built-in notch that holds your furniture's wheels in place. Most caster stoppers adhere to the floor without leaving behind any sticky residue when you remove them. Look for stoppers at hardware stores and office supply shops.
Step 5
Replace the casters with safety-brake or reverse-brake casters. Safety-brake types allow you to roll the furniture when sitting, but they lock the wheels in place when you stand up. Reverse-brake casters do the opposite. If you weigh less than 120 pounds, braking casters may not work properly.
Warning
Do not stand on a wheeled chair, and discourage children from doing so as well. Wheeled furniture can easily slip out from under you, causing falls and serious injury.
References
Resources
Writer Bio
Melissa King began writing in 2001. She spent three years writing for her local newspaper, "The Colt," writing editorials, news stories, product reviews and entertainment pieces. She is also the owner and operator of Howbert Freelance Writing. King holds an Associate of Arts in communications from Tarrant County College.
Photo Credits
Jupiterimages/Photos.com/Getty Images
Jupiterimages/Photos.com/Getty Images
More Articles