How to Keep the Bed From Sliding
Providing a comfortable location to rest your weary head after a hard day, beds can accidentally slide on the hard floors such as tiles and wood. This constant sliding can leave unpleasant marks on the floor, which make the floor look dull and dirty. Typically, carpeted floors will stop the bed from sliding.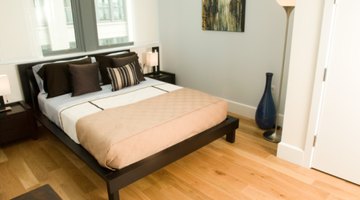 Things You Will Need
Area rug
Self-adhesive rubber grippers
Furniture cups
However, installing carpet is not always an economical choice. Fortunately, there is more than one way to keep the bed in the desired position, and prevent it from sliding across the floor.
Area Rugs
Scoot the bed frame carefully out of the way.

Place an area rug on the floor where the bed usually sits. Area rugs are available in various sizes, colors and designs, and will prevent the bed from sliding without having to install carpet.

Place the bed frame on top of the area rug.
Rubber Grippers
Remove the mattress from the bed frame and carefully flip the bed frame over so the feet are pointing toward the ceiling.

Remove the protective backing paper from the rubber gripper to expose the sticky side of the rubber.

Press the sticky side of the rubber gripper against the bottom of the bed frame feet.

Repeat Steps 2 and 3 on the remaining bed frame feet. Wait 5 to 10 minutes before carefully flipping the bed frame right side up and replacing the mattress.
Furniture Cups
Ask a second person to help install the furniture caps.

Lift one corner of the bed several inches off the floor. Let the other person slide one of the furniture cups under the bed frame foot and carefully lower the corner of the bed onto the furniture cup.

Repeat Step 2 for the remaining three corners of the bed.
Check out this related video.
References
Resources
Writer Bio
Amanda Flanigan began writing professionally in 2007. Flanigan has written for various publications, including WV Living and American Craft Council, and has published several eBooks on craft and garden-related subjects. Flanigan completed two writing courses at Pierpont Community and Technical College.
Photo Credits
Jupiterimages/Photos.com/Getty Images
Jupiterimages/Photos.com/Getty Images
More Articles