How to Move a Heavy Pullout Couch
Moving a heavy pullout couch can be a real pain in the neck, and you'll need some strong people to help you. Pullout couches, particularly older models, contain metal bed mechanisms that can weigh a lot. Done poorly, moving a heavy pullout couch can result in personal injury and unnecessary property damage.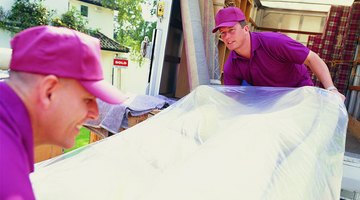 By following a few simple tips, you can safely move this common furniture item without any problem.
Lift the couch about 6 inches off the ground to determine how heavy it is. If you suffer from back problems or other physical issues that could potentially place you at risk for injury, have an able-bodied person perform this task.

Obtain the necessary help required to lift the couch. A big pullout couch that weighs over 100 pounds will likely require the assistance of three or four able-bodied adults. Ask friends, family members and neighbors to help you if you don't have a moving team.

Remove any potential hazards in the path between where the couch is and where you plan to move it. Clear away any wires, doorstops, chairs, tables, children's toys, shoes or other objects that are in the way.

Tie and secure the bed mechanism to the couch's front kickboard to prevent it from unexpectedly popping out during the moving process. Use heavy-duty rope, twine or strapping to tie the handle bar used to pull out the bed mechanism to the main body of the couch. Use a double or triple knot. Failure to do so can cause serious injury and damage.

Cover the couch with blankets or comforters to prevent the couch from getting scratched or damaged en route. You may need multiple blankets or comforters to cover the entire couch.

Slowly and carefully lift the heavy pullout couch, making sure all lifters are ready. Count to three, and lift by bending your knees, with your back straight.

Move your couch slowly and evenly, taking breaks when necessary. Take slow, even paces until you reach the destination. Be especially careful when moving the couch up and down stairs. Place the couch vertically on its side when moving through narrow doorways and hallways.
Things You Will Need
Heavy-duty rope, twine or strapping
Blankets or comforters
Tip
Use a moving dolly to make the job easier.
Warning
Never try to perform this task alone.
References
Writer Bio
Charlie Higgins is journalist, editor and translator based in Buenos Aires, Argentina. He has written for a variety of lifestyle and niche market websites, including International Food Trader, The Olive Oil Times, microDINERO, Sounds and Colours, Connecting Worlds and The Buenos Aires Reader.
Photo Credits
Digital Vision./Digital Vision/Getty Images
Digital Vision./Digital Vision/Getty Images
More Articles