How to Repair a Swivel Patio Chair
Swivel patio chairs are effective complements to outdoor furniture. When entertaining, it is nice to have the option to turn to people who are talking. For those who mix business and pleasure in their yard, swivel chairs are essential for working on the computer. Damage to swivel chairs is common, especially if they are overused. You may find that it will not longer move or is stuck in one position.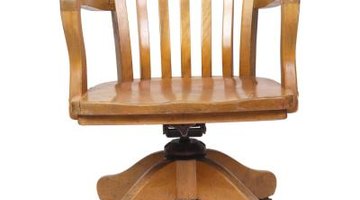 Step 1
Inspect your swivel chair for any rusted parts. Swivel chairs come in two types that differ from how they adjust the height of the seat. A gas mechanism has a lever that helps you bring the chair either up or down. A manual mechanism must be adjusted by hand. Lift your chair upside down to find out which one you have.
Step 2
Wiggle the gas or manual mechanism. If you have problems making the parts move, take the chair off of its column by twisting the chair's seat around until it comes off.
Step 3
Place the parts on a newspaper and spray with WD-40 to loosen up any of the parts. Spray a generous amount and allow to soak in for 20 minutes.
Step 4
Wipe down the gas or manual mechanism and place it back on the chair. Sit in the chair to see if the WD-40 has loosened up the mechanisms.
Step 5
Place a cover over the chair during the rainy weather to prevent further damage. Monitor the chair's mechanism to prevent further rust buildup.
Tips
Call the swivel patio chair's manufacturer if you need to replace the mechanism.
Keep you chair's manual in a safe spot to help you identify parts for repairs.
Photo Credits
PhotoObjects.net/PhotoObjects.net/Getty Images
More Articles