How to Fix Office Chair Creak
An office chair that emits continuous creaks, squeaks and other unpleasant noises is annoying, not just for you for for everyone else in the office. In many cases these squeaks and creaks can be fixed in only a few minutes. But no matter how long it takes, your office mates will certainly appreciate your taking the time to fix the chair and make it quiet again.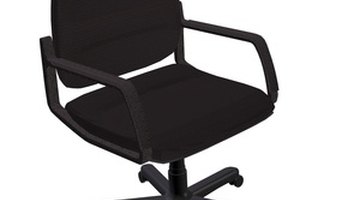 Kneel down on the floor next to your chair and move it around. Try to isolate the source of the creak. Creaks and squeaks are often caused by the swivel mechanism around the wheel base, the side and the back of the chair.

Apply a small amount of spray lubricant to the part of the chair that is making the noise. Using a spray lubricant with a fine-tip nozzle will make it easier to get the lubrication where you want it.

Wipe away any excess lubricant with a soft cloth. This will prevent the lubricant from staining the chair. Move the chair back and forth to work the lubricant into the mechanism. Allow the lubricant to sit for a few minutes, then test the chair for creaks.

Apply another coating of lubricant if the chair still makes noise. Apply additional lubricant to the surrounding joints as well ifi the noise is still present.
Writer Bio
Based in Pennsylvania, Bonnie Conrad has been working as a professional freelance writer since 2003. Her work can be seen on Credit Factor, Constant Content and a number of other websites. Conrad also works full-time as a computer technician and loves to write about a number of technician topics. She studied computer technology and business administration at Harrisburg Area Community College.
Photo Credits
More Articles