Assembly Instructions for a Lane Recliner
Since 1972, Lane Furniture Company has produced quality reclining chairs for leisure-lovers. Today, you can purchase a Lane recliner under several manufacturing names like Broyhill and Drexel Heritage. These large, comfortable chairs may be ordered online or delivered to you from a local store. Buying an unassembled chair may give you a price break on this expensive piece of furniture. Any price break is worthwhile, as there are only a few pieces you need to put in place to complete your Lane recliner.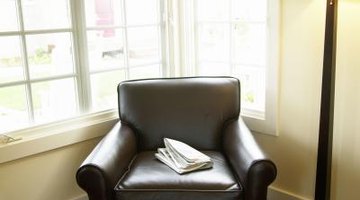 Step 1
Unwrap the chair from the packaging. Throw away the plastic packaging immediately as this may be a smothering or choking hazard for children.
Step 2
Place the base or bottom of the chair flush on the floor with the back of the chair facing towards you. Identify the back by locating the two metal or wood brackets at the lower portion of the base.
Step 3
Pick up the top portion of the chair. Look at the bottom of the portion you are holding for two bracket slots. Line up the top bracket slots with the bottom brackets on the base. Ease the body brackets into the bottom, sliding them in smoothly. Give the chair a slight shake. Verify that the slots appear to rest in place. Do not put your finger in the joints in case the chair slips.
Step 4
Flip up the fabric panel of the chair on the chair back, and locate the locking mechanism. Use a flat-head screwdriver to tighten the locking mechanism. Turn the locks on both side of the chair to lock the two pieces, the top and bottom, into place.
References
Tips
Lift and reinsert the top of the chair if the chair feels uneven.
Writer Bio
As a former senior sales director with Mary Kay and the co-owner of a renovation company, Monica Patrick has firsthand knowledge of small business operations. Besides start ups, she has extensive skills in recruiting, selling, leadership, makeup artistry and skin care.
Photo Credits
Brand X Pictures/Brand X Pictures/Getty Images
More Articles