Types of Boston Rocking Chairs
Rocking chairs have been in use for many years and normally conjure up an image of a grandmother and grandfather on the front porch together. Rocking chairs are popular because they produce a calming restful effect and are often used to rock babies to sleep. One of the most comfortable and stylish rockers created is the Boston rocker.
History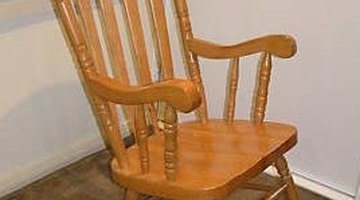 The Boston rocking chair originated in 1840 and it became very popular in the mid 19th century. Many artisans have duplicated its style and simplistic beauty. Boston rocking chairs are cherished items, which are handed down for generations in families and are often the first items moved to a new home.
Features
Boston rocking chairs are very comfortable with a carved seat that curves down in the front. The seat contains three pieces with a rise in the rear and a wide centerpiece. The back is tall and has seven to nine spindles or a wide splat at the top with a wide top rail. The splat is often painted and has a stencil of decorative flowers, fruit or landscape on it. Traditionally the rockers are made of maple and pine but the woods do vary in type depending on the region of its origin. The arms of a Boston rocker have a curve in them for comfort. Each Boston rocker type incorporates all of these features into its finished product.
Traditional
The traditional Boston rocker has spindles on the back and a chunky seat that is often two inches thick. They are normally hand painted in a brown or black finish and may have several coats of paint applied from being repainted.
Arrowback
The arrowback style has arrow shaped spindles in the tall back of the rocking chair with a curve in them to support your back in comfort. These will have seven or nine spindles.
Baby Boston
The smaller version of a Boston rocking chair is the Baby Boston. It is 27 inches tall and 16.25 inches wide with a 15-inch seat. It may have a splat in the back or be a spindle style. The Baby Boston does not have arms and has fewer spindles in the back with six legs leading to the rockers.
Considerations
If you are shopping for an antique original Boston rocking chair, you will want to look for the standard features to find an original. Additionally, the legs should not taper at the base but remain the same size throughout and the rockers are pinned into the legs with wooden dowels. There are new versions of the Boston rocking chair, which are manufactured in a child's size and a full size. These carry logos of major league baseball, football and basketball teams and with the school colors as their paint theme. The adult size is being marketed to students at universities with their school emblems and colors.
Writer Bio
Mary Lougee has been writing for over 10 years. She holds a Bachelor's Degree with a major in Management and a double minor in accounting and computer science. She loves writing about careers for busy families as well as family oriented planning, meals and activities for all ages.
More Articles