The Living Room Rules for a Sofa and a Loveseat
Sofas and loveseats are typically found together in the living room of most homes. The decor of both pieces of furniture either matches or complements one another, and allows for family and friends to sit together (or apart) in numerous configurations. As a rule, living room furniture should facilitate conversation, relaxation, entertainment and harmony. Sofas and loveseats should be arranged so that individuals sitting on either can face each other easily and effortlessly.
Focal Point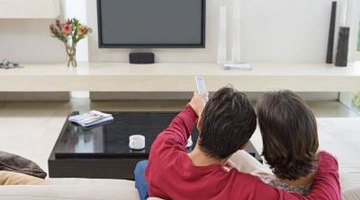 When arranging a sofa and loveseat, set up either the sofa or the loveseat facing the focal point of the room, whether it's a television and entertainment center, a painting, a window, a bookcase or an archway.
Arrangement
Place the sofa and loveseat perpendicular to one another, along adjacent walls. The sofa and loveseat don't have to actually touch the walls, but they should line up parallel to the walls of the room. If one wall is shorter than the other, place the sofa on the long wall and the loveseat on the short wall.
Doorways
Keep doorways in mind when considering furniture placement. Sofas and loveseats should face toward doorways, not away from them. Guests entering a room should be welcomed by either the front or side of a sofa or loveseat, but never the back.
Spacing
Spacing is one of the most important points to consider when deciding how to arrange your sofa and loveseat. You must keep enough space around each piece of furniture for comfortable room traffic; household members and guests should be able to walk by easily without turning to the side or feeling squeezed in. Conversely, furniture should be close enough to facilitate comfortable conversation in quiet tones, and close enough that a person sitting on the edge of the loveseat can pass something to a person sitting on the perpendicular edge of the couch without having to get up. Also, keep heating and air conditioning in mind; if a sofa or loveseat rests along a wall with an air vent, pull the furniture a few inches away from the wall.
In Easy Reach
Keep sofas and loveseats near coffee tables or end tables. People sitting on your furniture should be able to easily reach remote controls, snacks, drinks and books.
References
Writer Bio
Oubria Tronshaw specializes in topics related to parenting and business. She received a Bachelor of Arts in creative writing from the Santa Fe University of Art and Design, and a Master of Fine Arts in creative writing from Chicago State University. She currently teaches English at Harper Community College in the Chicago area.
Photo Credits
IT Stock Free/Polka Dot/Getty Images
More Articles