How to Decorate a Long Narrow Living Room With a Fireplace on a Side Wall
As you decorate a living room, the dimensions of the room and the built-in features will determine a significant amount of furniture placement.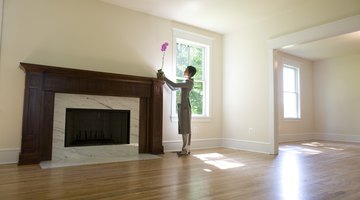 Things You Will Need
Area rugs
Club chairs or recliners
Love seats or couches
Television or entertainment center
End tables
Table and floor lamps
Decorator items
For example, to decorate a long, narrow living room with a fireplace on a side wall, the long side wall and the position of the fireplace on this wall will determine how you place furniture for seating. Get the most effective and pleasant use out of your room with careful attention to these details.
Assess the unmovable features of the room, including windows, doorways, built-in shelving and the fireplace. If there is a traffic pattern through the room, consider this as well to ensure that you position furniture around the traffic areas.

Create a main seating area in front of the fireplace where people can sit near the warmth to enjoy a fire. This seating area will likely take up approximately half of the room. Define the seating area with an area rug on the floor in front of the fireplace, if you desire. Position two club chairs, two recliners, a loveseat or a couch within about 8 feet of the fireplace, on the area rug, if applicable.

Make a second seating area in the other half of the room. Use the other half of the side wall or one of the narrow end walls for a television or entertainment center. Add another area rug on the floor in this half of the room, if you desire. Position seating in front of the television or entertainment center on the rug to enable people so sit and view the screen. A sectional couch, pair of loveseats or loveseat and club chair might be ideal for this half of the living room.

Add an end table between pairs of chairs or two end tables flanking the loveseats or couches. Add table lamps on the end tables or floor lamps near the seating areas to provide effective lighting in the living room.

Add decorator items to the room, including artwork on the walls, potted plants, vases or candles on the mantel and shelves or accent tables along walls.
References
Ask Mi-Ling!: When You Want the Truth about Decorating; Mi-Ling Stone Poole
Writer Bio
Kathryn Hatter is a veteran home-school educator, as well as an accomplished gardener, quilter, crocheter, cook, decorator and digital graphics creator. As a regular contributor to Natural News, many of Hatter's Internet publications focus on natural health and parenting. Hatter has also had publication on home improvement websites such as Redbeacon.
Photo Credits
David Sacks/Lifesize/Getty Images
David Sacks/Lifesize/Getty Images
More Articles