DIY Decor Ideas to Break Up a Sectional Sofa
Sectional sofas contain an entire living room suite in a single piece. The sectional components of a sectional can be broken up decorating a room in a more traditional manner with a separate sofa and recliners. Separating a sectional sofa is just the first step. Incorporate the pieces into the room's design with a few additions to the sectional's individual parts or their placement.
Slipcovers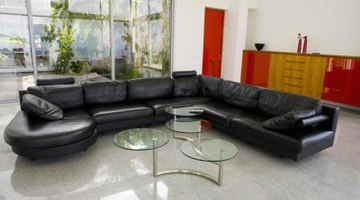 Use slipcovers matching the room's decorating theme covering the components of a separated sectional sofa. Using different colored slipcovers make the parts of the sectional appear to be different pieces of furniture. The slipcover should cover the sectional sofa's part back and sides. Pick a slipcover the same color as the walls if you find that the loveseat or sofa component of the sectional feels too large. Covering the sectional's largest part with a slipcover the same color as the wall helps it blend into the background and appear smaller, as noted by Mark Montano in "Window Treatments and Slipcovers for Dummies."
Dual Focal Points
Arrange the sectional sofa's components so that each faces one of two focal point of the room, such as the television or fireplace. If your living room has a fireplace and a television, turn half of the sectional pieces facing the fireplace and the other half pointed at the television. Angling the pieces increases the number of sectional components that fit in a given space and provides each seat with a clear view of the room's focal point.
Semi-circle Arrangement
Break up a sectional and rearrange it into a sofa and chairs. Arranging the two chairs at angles away from the sofa in the center creates a large arc with the furnishings all facing the same direction. Placing an area rug or coffee table at the arrangement's center unites the pieces. Placing floor plants or end tables between the chairs and the center sofa fills empty space in the room.
Pillows
For a neutral-colored sectional, adding throw pillows to the components after breaking up the sectional makes the parts appear separate pieces of furniture rather than parts of a sectional sofa. Use large, brightly colored throw pillows matching your living room's accent color. For instance, if you have a tan sectional in a living room with shades of light brown and accented with black, use large throw pillows in black on some of the parts and light brown throw pillows on other parts of the sectional. If you want to keep the parts of the sectional uniform after breaking it up, use the same color and type of throw pillow on all the parts of the sectional.
References
New Decorating Book; Denise L. Caringer
Window Treatments and Slipcovers for Dummies; Mark Montano and Carly Sommerstein
Rearrange It!: Basic Interior Redesign Business Tutorial; Barbara Jean Jennings
Photo Credits
Goodshoot/Goodshoot/Getty Images
More Articles