How to Decorate an L-Shaped Living Room & Dining Room
You've converted a loft, knocked down non-load-bearing walls in a cramped older home or scored an affordable apartment with an unconventional layout. Now you have to deal with a living-dining space shaped like an "L." This is an opportunity, not a quandary, as long as you plan the decor as a unit. Piecemeal decorating is not your best option for a space that flows and feels inviting.
Using the Space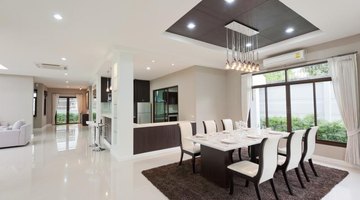 Your angled "everything" space may be as long as a bowling alley or as cramped as a corner closet. You still have to decide which function goes where and then how much spillover you want between living and dining areas. When the open space includes a kitchen, it's typical to locate the dining room next to the kitchen, with the living room in the remaining leg of the "L." In other configurations, the living room usually gets the larger area with the dining table tucked into the smaller space. To define and separate noshing from socializing, turn a sofa back to the dining area, focusing attention inward in a conversation area, or partly screen the two parts of the room with an open shelf system set perpendicular to a wall. If life is one big all-inclusive meet-up for you, open the sofas and seating to the dining room so the conversation and the guests flow back and forth unobstructed.
Colors and No-Color
A room in an L-shape is an invitation to paint an accent wall. The shortest wall of the "L" or the least-seen end wall of the smallest space are both good candidates for distinctive color. A dining room might be more dynamic with a russet wall, not visible from the living area but a strong backdrop for an antique hutch or a contemporary sideboard. A living room, elegant in silvers and lilacs, could shimmer against a short wall painted a dusky violet. But small living-dining rooms are normally best served with light neutral wall paint and trim. Bone, linen, white or straw work with most furnishings. Pull out a color from upholstery or a rug for drapes. Go monochrome with two shades of gray on walls against white or cream ceiling and trim. Paint the living room area a rich medium-to-dark gray and go several shades lighter for the dining room.
Extra Added Attractions
When the room has a focal point, start there to plan your decor. A working fireplace could sway you to designate that area of the living room as the focal point; group the couch and chairs around the hearth. French doors leading to a deck might signal that the dining room could be a fair-weather al fresco refectory with the doors open to balmy breezes. Treat a focal point like the third function of your multipurpose space. You need a comfortable traffic flow around it; good sighting from all areas of the "L," including room entrances; appropriate lighting to highlight the attention-grabbing feature and color and fabric choices to complement decorative elements of an elaborate mantel or opulent chandelier and gilded antique crown molding.
Light Fantastic
An "L" might be exposed to bright light with a window wall, French doors or sliding glass doors leading to a terrace -- or skylights over one or more areas of the room. You will need a lighting strategy to create a variable, but uniform look, soft and strong lighting and some definition for the different functions assigned to the space. Recessed ceiling lights throughout the living and dining legs of the "L" -- and the kitchen if your layout includes a kitchen -- provide a symmetrical starry constellation overhead. Have them installed on dimmers and controlled by section so you can dim or intensify light for entertaining guests or enjoying a romantic meal. Select pendant lamps that work for both spaces and keep one style throughout -- even if the colors are different. Cerulean glass shades in the living room can switch to red-orange glass shades in the dining room on the same lamp.
References
Resources
Writer Bio
Benna Crawford has been a journalist and New York-based writer since 1997. Her work has appeared in USA Today, the San Francisco Chronicle, The New York Times, and in professional journals and trade publications. Crawford has a degree in theater, is a certified Prana Yoga instructor, and writes about fitness, performing and decorative arts, culture, sports, business and education .
Photo Credits
Detanan/iStock/Getty Images
More Articles