How to Decorate an Adjoining Living Room & Dining Room
Shared spaces are common in smaller homes, condos and efficiency apartments. Adjoining rooms need special attention because they are serving a different purpose in your home. You might think they may be challenging, but they're actually easy to decorate when you know how to do it. The trick to making these spaces feel inviting and warm is working with the space you have and the colors you like.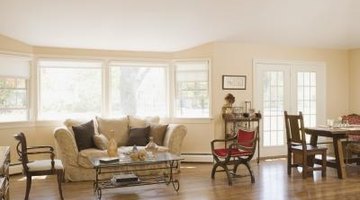 Paint the walls in the dining and living areas the same color. Decide if you want to use cool or warm colors. Blues and greens are cool colors, while yellow and golden tones will add warmth to rooms. Pick a color that you like and a color that works well with the furniture and accessories you use in these rooms.

Combine colors, fabrics and textures in these areas to create a sense of harmony. Consider using the same fabric on chair cushions and throw pillows for a unified look. Try to use at least one color in both areas. If blue is a primary color in your dining room, use that same color in the living room in the artwork, on throw blankets or with lampshades.

Decorate both spaces with the same theme. This keeps the area from looking cluttered and disorganized. If you want a contemporary dining room, it's best to go with a contemporary living area as opposed to a shabby-chic look. Spread matching accessories around in both areas for a cohesive feel.

Decorate both areas with the same window treatments. This is one of the easiest ways to make a shared space feel integrated.

Organize your living room furnishings around a coffee table to create a distinct living space. Place the front legs of the sofa on one edge of a rug and place the table close enough to the sofa to be of use. Arrange tables and chairs and around the rug to create an intimate living area.

Arrange furniture in both spaces to fit together comfortably. Try to make the areas feel balanced rather than dividing pieces by where you think they belong. If the combined room feels large, arrange furniture to create defined, cozy areas.

Decorate with plants to help the shared area to feel warm and welcoming. Plants add warmth, and this may help larger spaces that feel stale.
Check out this related video from Homesteady on Youtube.