How to Decorate a Parlor Room
A parlor room is a formal sitting room that is generally used to entertain guests. Parlor rooms are often found in larger houses. In modern homes, the parlor room has been replaced with the living room, sitting room or den and can be either formal or casual. Parlor rooms and living rooms usually hold items with which to entertain guests, as well as works of art, display items and the family's best furnishings. A parlor room should be decorated in a way that invites guests in and makes them feel comfortable and tended to.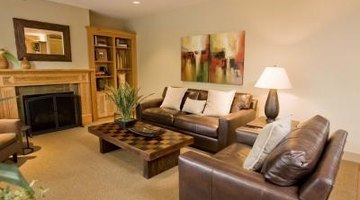 Hold a variety of paint color swatches up to the wall. Determine which ones you prefer and paint the walls. If desired, wallpaper the walls in your colors.

Decide on flooring. Install carpet for a comfortable feel. Install dark hardwood for a more formal look.

Arrange sitting pieces. Place a couch across from the fireplace, if there is one. Place two comfortable side chairs facing each other and adjacent to the couch. This creates a comfortable sitting space, forming a square.

Put a large coffee table in the middle of the sitting area. Place small side tables on either side of the couch or next to the chairs.

Set a lamp on one of the side tables or place a tall, standing lamp between the couch and one of the chairs to make a comfortable reading space.

Put a bookcase against one of the walls. Arrange it so it is visibly appealing and does not overcrowd the space. Fill the bookcase with books and magazines.

Install shelves on the wall to display decorative items. Install the shelves on either side of the fireplace or stretch them across the span of one wall. If the room is large and you have enough space, use a curio cabinet to display the items. Place it against a wall but not too close to the bookcase or it will look overcrowded.

Hang your favorite pieces of art tastefully in the room. If you have small pieces, hang them in groups of three. If you have a single, large piece, hang it above a fireplace or above a piece of furniture.

Place a trunk behind the couch and fill it with board games to play with guests.

Use potted plants to make the space inviting. Plant them in decorative pots and place them on either side of the fireplace or hang a hanging basket near a corner of the room. Choose plants that coordinate with the size of the room; if the room is large, use large plants, but if it is small, choose smaller, more compact plants.

Place a basket between one of the couches and chairs or underneath a side table. Fill the basket with comfortable throw blankets.

Put an attractive entertainment center in the room for a casual parlor. If the room is small and has a fireplace, use a corner unit. If it is large and does not have a fireplace, set it where the fireplace would normally be with respect to the couch and chairs. Put a modern television in the unit as well as movies and video games.
References
Tips
Use colors that coordinate and match the wood in all wooden furniture pieces.
Writer Bio
Audrey Pannell has been writing since the year 2000. She has written for AOL and eHow. She holds a Bachelor of Science in public administration from the University of Texas at Dallas and also completed a certification course to obtain a teaching certificate for early childhood through fourth grade.
Photo Credits
Jupiterimages/Comstock/Getty Images
More Articles