How to Decorate a 15X10 Living Room
A 15-by-10-foot living room is on the small side, especially if there is no other common space such as a family room or den. Furniture should be selected to do double duty. For example, the ottoman for that comfy chair provides extra seating in a pinch and stores games under the hinged, upholstered top.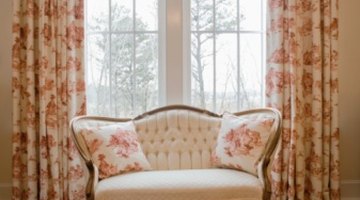 The advantage of a smaller living room is it costs less to decorate.
Choose a color scheme for your room. If you're not sure what you'd like, pick a favorite painting, fabric, or rug and choose two of those colors as the basis of the scheme. Two colors and a neutral provide variety without being busy. Neutral colors include white, beige, black, brown, navy and gray. For example, choose coral and turquoise for your colors with pops of black.

Pick a style and theme for your room. You might go modern, retro 50s, country chic, seaside, Art Deco or any other theme. The idea is to use the theme and the color scheme to coordinate the room. In a small space, consistency is important. As an example, choose an oriental theme for your room.

Paint the walls of the living room a pale version of one of the two colors you've chosen. Light colors will make this smaller room feel bigger. Paint the baseboards a contrasting color or the same color as the walls. For this decorating theme, paint the walls a very pale shade of turquoise -- almost white with a hint of color.

Create a focal point. Even a small room needs a point of interest to draw the eye. If the room has a view, that naturally becomes the focal point. A fireplace is another focal point. If the room doesn't have any architectural detail that would work, use artwork, a plant grouping or a collection. For this oriental-themed room, create a collection of faux dynasty vases in colors of mostly coral and turquoise placed on glass shelves on one wall across from the entryway. The glass shelves are transparent and don't take up any space visually. Another alternative would be to use a bookcase for the collection and paint the inside of the bookcase black to make the collection stand out.

Add flower arrangements, plants and other accessories with a restrained hand. If you use too many, a 10-by-15-foot living room will look cluttered. For an oriental room, the Ikebana style of floral arrangement works well. Silk bonsai plants setting on either side of a Japanese mirror on a low table greet visitors in the entryway.

Choose furniture in neutral colors and add throws and pillows in your color scheme. If you get tired of the color scheme, it's not a problem to change with paint and new accessories; you don't have to go out and buy new furniture. A modern black leather sofa accented with geometric-shaped pillows would be appropriate for an oriental style. Choose a smaller sofa that won't overpower the small room.

Tip

Paint is cheap. If the first color doesn't work out, choose another.

Warning

Plan your furniture arrangement to scale on paper first to avoid disasters.
References
"Everyday Styling"; Sue Coelho; 2002
"New Decorating Book"; Better Homes and Gardens; 2003
Tips
Paint is cheap. If the first color doesn't work out, choose another.
Warnings
Plan your furniture arrangement to scale on paper first to avoid disasters.
Writer Bio
Katie Jensen's first book was published in 2000. Since then she has written additional books as well as screenplays, website content and e-books. Rosehill holds a Master of Business Administration from Arizona State University. Her articles specialize in business and personal finance. Her passion includes cooking, eating and writing about food.
Photo Credits
Jupiterimages/Creatas/Getty Images
Jupiterimages/Creatas/Getty Images
More Articles