Design Ideas for Converting a Small Bedroom to Dining Room
If you're in a home without a formal dining room, converting a spare room into a dining room is an efficient way to use the space. And it's much less hassle and less expensive than knocking down walls and building additions onto the house. A small bedroom, for example, can easily be repurposed for this usage. After a weekend's worth of effort---or less---your home will have the formal dining room you've always wanted.
Room Prep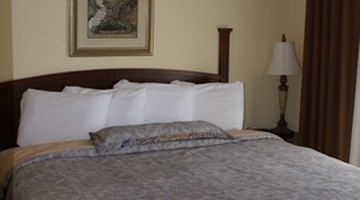 Clear the bedroom out completely, removing every piece of furniture. If there is carpeting in the room, remove it if you can. Dining rooms are usually uncarpeted; plus, this makes cleaning spilled food or drink much easier. Once the room is empty, paint the walls. In a small room, using lighter colors makes the space appear bigger, so try a white, or a pale or pastel shade.
The Furnishings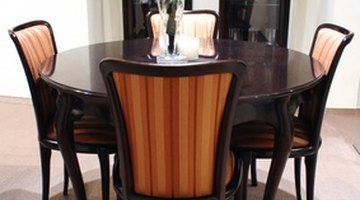 Do some space planning to decide what furniture to use and where to put it. First consider size. Since the bedroom is small, using only table and chairs is best; use larger pieces such as a buffet or china cabinet only if not too obtrusive. Look for a small or round square table instead of a long rectangular one. When placing furniture in the room, allow for the location of any windows, for easy access to doors, and for the most efficient flow of movement in the room.
End Product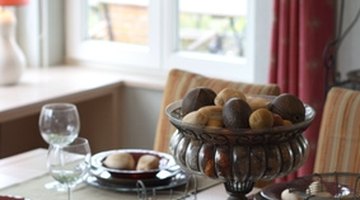 Pull the dining room together with finishing touches. Replace the ceiling fan or light with a chandelier. Place a potted plant or corner shelving unit in a corner. Put curtains on the window. Hang pictures on one wall. Mount shelves on another wall and place neatly stacked plates and bowls on them, or decorative affects such as candles, pretty pottery, dining-themed words carved in wood such as "Eat Well" or "Kiss the Cook" or "Bon appétit!" or other knick knacks. Place a centerpiece and table settings on the table.
References
Writer Bio
Donni Jones has been an editor and writer since 1996. She has edited articles for and contributed content to numerous publications, magazines and online businesses such as FootSmart.com and KateAspen.com. She holds a Bachelor of Arts in English from the University of West Florida.
Photo Credits
Hotel Bedroom image by Tom Oliveira from Fotolia.com
interior with stool image by Leonid Nyshko from Fotolia.com
Reich dekorierter Esszimmer Tisch image by Matthias Nordmeyer from Fotolia.com
More Articles