Mobile Home Paint Colors
Updating the look of a mobile home is sometimes challenging, especially if the home is outfitted with wood paneling and lacks sufficient natural light. A mobile home, regardless of square footage and window size, appears airier and more inviting when you paint it in a suitable color scheme.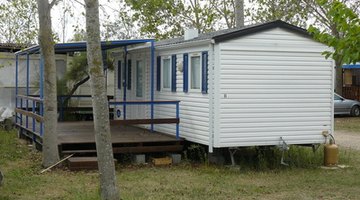 Paint is one of the quickest, easiest ways to update and improve your mobile home's look.
Cool, Calming Colors
Painting your mobile home's walls in cool pale blue or green practically erases paneling, if that's your aim. Such watery colors along with sandy elements give your home an airy, relaxing, day-at-the-beach vibe. Cool hues are inviting, and typically reserved for restful spaces, such as bedrooms and bathrooms, but small spaces benefit from a peaceful atmosphere, making your mobile home stand out in a positive, zen-like way.
Why Warm Works
Cranberry, gold, coral and even dusty pinks are ideal colors to warm up the interior of your mobile home. Richer warm shades, such as ruby red, benefit from good lighting, but in darker spaces, decorating with plenty of white furniture and accessories visually softens dark tones by creating interesting, invigorating contrast. If painting all the walls in a dark, warm color seems overwhelming, paint only the focal wall with such intensity -- as an accent --, and then paint the rest white or off white.
Remaining Neutral
Neutral colors, such as beige or cream, are especially favored, if you are trying to stage your mobile home for sale. Covering mid-tone or dark paneling with neutral white or off-white paint allows darker art and accessories to pop. Also, many mobile homes are dark because they have few or small windows; pale neutral colors make small rooms appear larger and brighter since they reflect even sparse light -- natural or otherwise. Use pure white paint on dated, wood laminated cabinetry for even more visual freshness.
Tone on Tone
Another option for painting a mobile home interior is to choose varying shades of the same color or similar colors for coordination and interest. For example, warm terracotta on an accent wall, surrounded by buttery-yellow walls can help to turn "bland" into "grand." Other color combinations that "open" small spaces, include cream and silvery gray, and tan and chocolate brown. Tie together the look and create a more substantial, contemporary effect by replacing narrow wood trim with wider, pure-white trim.
References
Resources
Writer Bio
Yvonne Van Damme is a freelance writer based in Seattle. She has been writing for several years with a focus on criminal justice and legal topics. In addition to various websites, she has been published in several academic journals. Van Damme holds a Bachelor of Arts in law, society and justice and sociology from the University of Washington.
Photo Credits
Camping – Mobilhome image by albillottet from Fotolia.com
Camping – Mobilhome image by albillottet from Fotolia.com
More Articles