What Color Should We Paint an Arch in Between Two Rooms?
Archways are often found in homes that have a Spanish or Southwestern motif. An arch in between two rooms provides architectural interest and widens the entryway between two areas. If you plan to paint your archway, you want to select a color that blends with the rest of your interior design.
Bright or Soft White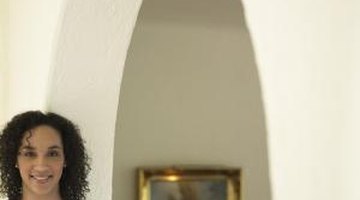 White is a common paint color for an archway, because in many homes white matches the color of the ceiling and walls. Depending on the rest of your home's decor, you can select a bright white paint color like brilliant white or a soft white paint color like eggshell. White is a neutral color that allows you to transition between two rooms easily, especially if one of the rooms is painted white and the other room is a different color.
Neutral Beige or Tan
If you want your arch between two rooms to coordinate with your overall home design, select neutral beige or tan paint colors. A neutral color works well if the rest of your walls have a neutral or natural earth-tone color. Light colors like beige and tan make the room seem larger and make the transition from one room to the other open and expansive.
One Shade Darker or Lighter
For an artistic and distinctive home design, paint your archway a color that is one shade darker or one shade lighter than your surrounding wall color. Because you are only going one shade darker or lighter, the impact is subtle so it does not detract from your home design. If the arch is between two rooms that are different colors, paint one side of the arch a shade lighter or darker than the color of the room on that side. Do the same with the other half of the arch. You can paint the interior rounded loop of the arch either color. Avoid this method if the two rooms have severely contrasting paint colors.
Accent Color
Paint your arch an accent color if you want the archway to stand out as a focal point in your home design. Choose a color that coordinates with the rest of your decorative motif. If you have red accessories in your kitchen and living room, consider painting your archway between the two rooms a deep red color. If you have a rustic country motif, consider painting the arch from your entryway to your living room a soft mocha brown color.
References
Writer Bio
As curriculum developer and educator, Kristine Tucker has enjoyed the plethora of English assignments she's read (and graded!) over the years. Her experiences as vice-president of an energy consulting firm have given her the opportunity to explore business writing and HR. Tucker has a BA and holds Ohio teaching credentials.
Photo Credits
Ryan McVay/Lifesize/Getty Images
More Articles