How to Paint the Inside of a Split-Level Home
A common mistake that homeowners make is thinking that they can paint the inside of their split level home the way they would paint the inside of a more traditionally structured home.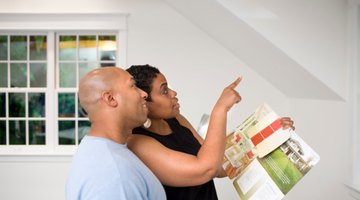 The paint colors of such a specific structural design must reflect and compliment each other very specifically, just as they need to compliment the exterior of the house. Instead of being an eclectic mix of random colors, your paint needs to help bring your decor scheme together for a distinct, finished look.
Go outside and look at the style of your split-level home. Write it down. Decide if you want your interior decor and hence your paint scheme to complement or contrast this style. If the answer is no, select a decor style that you can afford to have in your home, such as Victorian, Arts and Crafts, Tuscan or French Provincial.

Look through big books with glossy photos on the decor style that you've selected. Look at rooms that you like and write down all the paint colors for the walls that you see.

Look at your list of possible paint colors and circle the three colors that you feel would look best with the majority of furniture that you already have in your home. Ideally you should have one light color, one medium color and one dark color, such as a combination of yellow, gray-blue and navy. Or you could use two light colors and one dark, such as yellow, light coral and indigo. You just want to stay away from using two dark colors as that could make a split-level home seem smaller and more cramped.

Paint rooms in your house that seem too large or which have higher ceilings your darker paint color. Paint smaller rooms or rooms with fewer windows your lighter colors. Use your lighter paint colors in rooms where you always start your day such as the bathroom or kitchen to give your day a cheerful start. Generally, you should try to avoid using the darker colors on the second level as they can have an encroaching effect on the lower level and give the entire house a more cramped feeling.

Paint the railings and stairs in your split-level home your lightest paint color. If you like, you can choose to use a darker paint color as the trim along the railings; it all depends on what kind of look you want to achieve.
References
"Inside the not so big house: discovering the details that bring a home to life"; Sarah Susanka, Marc Vassallo, Ken Gutmaker; 2005
Writer Bio
Lane Cummings is originally from New York City. She attended the High School of Performing Arts in dance before receiving her Bachelor of Arts in literature and her Master of Arts in Russian literature at the University of Chicago. She has lived in St. Petersburg, Russia, where she lectured and studied Russian. She began writing professionally in 2004 for the "St. Petersburg Times."
Photo Credits
David Sacks/Lifesize/Getty Images
David Sacks/Lifesize/Getty Images
More Articles