Southwestern Paint Colors
Southwestern paint colors may vary slightly depending upon which area in the Southwest you wish to emulate. One characteristic that many Southwestern palettes share is the use of colors found naturally in this region. Whichever colors you decide to use, take home samples from the paint store to ensure that the colors work well together and look pleasing in your home's light.
Tan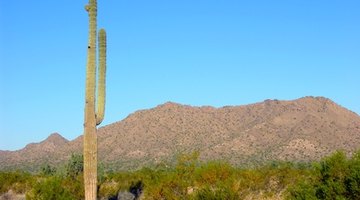 While a specific color might pop into your head immediately when you hear the word tan, this color covers a wide range of shades. If you look through paint samples, you'll find tan colors with both warm and cool hues. These qualities greatly impact the appearance of the color, especially if you use it to cover a large area or wall. Think of natural sand or earth colors from the Southwest when choosing a tan for your paint scheme. Don't be afraid to choose a tan paint with a slight red or brown tint if you feel it works best with your design.
Red
A Southwestern shade of red is usually more subdued than the red you see on a fire engine. These reds often contain brown or orange tints to give the color the appearance of red clay, another natural substance found in the Southwest. Terracotta is a favorite reddish color used in Southwest decorating that most people are familiar with. Whether you choose to refer to these colors as reds or oranges, keep them in mind for a primary or accent colors in your Southwest color scheme.
Green
Using green paint can add contrast to a Southwestern paint palette filled with mostly tan and red earth colors. Look for natural green colors that you might find in plants native to the Southwest, such as sage green or pine green.
Blue
A small amount of blue paint can have a big impact on a subdued palette of natural earth colors. While you might want the blue paint to pop, stick to your Southwestern theme by choosing blue colors that are present in the natural environment. One example of such a color is turquoise. This blue stone is found in the Southwest and often used to make jewelry. You can take a piece of turquoise along when you pick out paint colors if you want to match the stone precisely. You can also use pale or deep shades of blue found in the sky to add a natural blue color to your palette.
Yellow
Choose warm shades of yellow or gold to use in your Southwestern paint scheme. You can use either pale or dark shades of yellow to blend in with your tan or sand-colored paints or provide a soft contrast.
References
"Paint Saves the Day"; Lucianna Samu; 2009
Writer Bio
Kittie McCoy has been a freelance writer since 2008. She is also a part-time personal trainer and licensed entertainer in Las Vegas. She enjoys sharing her love of physical fitness and experience in the entertainment industry via her writing.
Photo Credits
More Articles