Interior Painting Techniques for Opal or Pearl Walls
Faux painting techniques are becoming increasingly popular because of the dramatic effect they create in a room. Opalescent and pearlescent paint are two possibilities to consider for your next interior renovation project.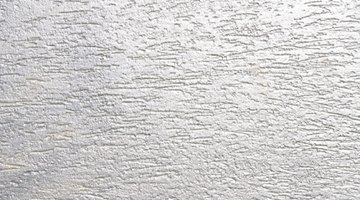 The advantage of using these kinds of paints is that the sheen brightens your room by reflecting some of the light that shines on it.
Subtle Stripes
You can use pearlescent paint to create either subtle or dramatic stripes in a room. For a more subtle effect, choose a pearlescent shade of paint that is close or nearly identical to the color of base coat you plan to use. Measure your room to determine how wide of a stripe would divide your room evenly. Paint two coats of your base coat, then mark and tape off your your stripes. Use a roller to paint on the pearlescent shade of paint.
Rag Rolling
The rag rolling technique creates a marbled effect on a wall. One way to accomplish this is to use a slightly darker color for your base coat and a lighter opalescent color for top coat. Wet the rag in clean water, roll it up and roll it lightly through the paint. Roll this over your wall after you have prepared it with two coats of your base coat.
Solid Opalescent Walls
Paint your wall with two coats of a base coat. Choose a color that is close to the same as the opalescent paint you plan to use. Also paint the ceiling of the room with the base coat. Use a brush or a sponge to paint two layers of the opalescent paint on the walls. Trying painting two opposing walls at a time, taping off the adjacent walls so you do not have an unwanted buildup of paint.
Textured Walls
Use plaster to create a texture on your wall. You can use a spatula or comb to create lines, peaks or radiating circles. Wait until the plaster is dry. Using a thick roller, paint two layers of a base coat over the plastered wall and let it dry. Then paint two layers of a pearlescent paint that is slightly lighter than your base coat over the wall.
References
Writer Bio
Victoria Martin has been a writer for more than 14 years. Her work has appeared in Jacksonville's "The Dialer World Magazine," San Francisco's "In Structure Magazine" and Northern California's weekly "The Word: Arts and Culture." Martin received her Bachelor of Arts in liberal studies from Humboldt State University.
Photo Credits
Hemera Technologies/AbleStock.com/Getty Images
Hemera Technologies/AbleStock.com/Getty Images
More Articles