What Color Walls With a Dark Cranberry Couch?
A dark cranberry couch is an ideal centerpiece for a living room or family room because the rich color adds instant warmth to the space. Choosing a wall color to pair with it can be challenging, as it is such a bold shade. However, you actually have several attractive color options, depending on whether you want your couch to stand out or work with its surroundings to create a cozy look for the room. Before committing to a color, it's usually wise to paint swatches on the wall behind the couch to see which combination you like best.
Cream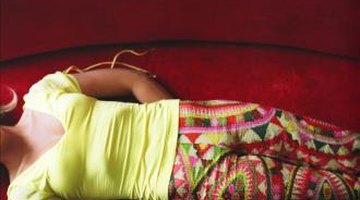 If you want your cranberry-colored sofa to be the focal point of the room, paint your walls a cream color. The light wall color contrasts with the dark red of the couch, so the furniture stands out. White is also an option, but it may look somewhat stark when paired with dark cranberry fabric. Cream is a softer choice because it has a slight yellow undertone that gives the room a warm feel and complements similar undertones in your cranberry sofa.
Gray
Because cranberry is such a rich, dark shade, you may prefer a neutral color option for your walls. Gray is an ideal choice because it allows the sofa to stand out but provides a more balanced look for the room, as it is a deeper shade than cream. If you are painting a large space, you can try a mid-tone gray shade to add dimension to the walls. However, for a smaller room, a lighter shade like dove gray can make the space feel larger.
Orange
Colors located next to one another on the color wheel match one another well because they share similar undertones. Because dark cranberry belongs to the red family, an orange-based wall will complement the look of your sofa with its similar warm undertones. To help brighten your living room, try a light peach shade to provide a contrast with the rich color of the sofa. However, if you want a bolder look, choose a terracotta paint for your walls to match the intensity of the dark cranberry on the sofa. Both combinations will work for a living room or family room because they create warmth within the space.
Gold
If you want a warm-toned wall color to pair with your dark cranberry couch, gold is another attractive option. Like orange, yellow is located near red on the color wheel so they make an ideal pairing. Instead of a bright, primary yellow, though, opt for a more sophisticated gold shade. It adds a richness to the walls that matches the deep look of your sofa's cranberry fabric. However, gold is also light enough to add brightness to your room, so it works well in a space that is small or lacks natural light.
Sage
Colors opposite one another on the color wheel are complementary because the warm and cool tones create a striking contrast that makes both shades pop. Because red is opposite green on the color wheel, pairing your cranberry sofa with a green wall shade is an ideal option if you want a bold look for your room. Sage is an attractive option for your walls because it is soft shade that still adds depth to the room. Its cool undertones provide a soothing, relaxing feel for the room, as well.
References
Writer Bio
Based in New York City, Jennifer Blair has been covering all things home and garden since 2001. Her writing has appeared on BobVila.com, World Lifestyle, and House Logic. Blair holds a Bachelor of Arts in Writing Seminars from the Johns Hopkins University in Baltimore, Maryland.
Photo Credits
Jupiterimages/Photos.com/Getty Images
More Articles