Pine Bedroom Color Ideas
A bedroom that incorporates pine wood elements creates a rustic, inviting atmosphere. The distinctive grain and variety of stains for pine wood pose a challenge when it comes to matching paint colors.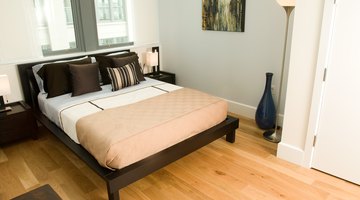 Whether your bedroom includes pine floors, wainscoting, trim or hardwood flooring, choosing the right paint colors to match or complement your pine accents greatly affects the aesthetic success of a bedroom.
Neutral Colors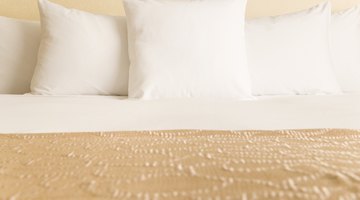 The distinctive grain of pine pairs best with colors that don't compete with either the texture or the color of the wood. Neutral colors fade into the background and allow the pine accents to be the visual focal point of the bedroom. Both light- and dark-stained pine furniture and floors coordinate well with cream or beige walls. The neutral shades are especially appropriate for bedrooms because they contribute to a calming, peaceful atmosphere that promotes sleep and relaxation. Brighten up darker stains with crisp white accents in trim and linens. Pine wood with a light or clear stain coordinates well with off-white walls and linens or darker caramel shades of beige. Lighter stains are also subtle enough to complement pale, minty green walls or bedspreads; consider light green curtains against light pine paneling or an asymmetrical light green area rug on a light pine wood floor.
Warm Tones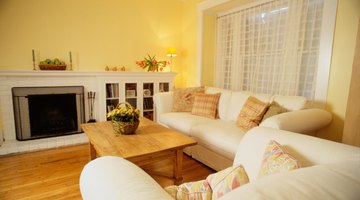 Most pine, regardless of stain, is comprised of warm tones rather than cool tones. To avoid creating a distracting color contrast, select colors that complement the warm undertones of the wood. Light or clean stained knotty pine often features yellow or orange tones. Pair light pine furniture, floors or panels with pale or sunny yellow accents. A very light yellow for walls creates a warm, welcoming bedroom while bright yellow throw pillows or bedspreads brighten up a bedroom space. Darker stains may clash with yellow accents, so opt for warm red or orange colors instead. Avoid a dark red on walls, which may make a bedroom seem too dark or cave-like. Instead, incorporate red into curtains, linens, area rugs or room accessories like lamps or drawer pulls.
Cool Tones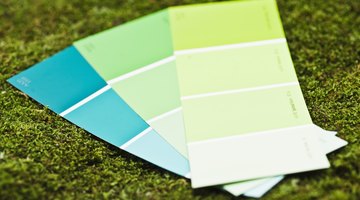 Though most pine wood clashes with cool-toned colors, some light stains are neutral enough to suit cool accent colors. Choose cool tones that are inspired by nature to complement the wood grain. For a bedroom with clear or very light stained pine wood, select light, airy sky or robin's egg blue for walls. Incorporate darker blues into room fabrics and accessories to create a cohesive color scheme. Shades of green are also suitable for introducing a pop of colors into a pine bedroom. Avoid neon or saturated shades of green, which clash with pine accents. Instead, olive or pale green adds color without competing with the grain of the pine.
References
Writer Bio
Hannah Wahlig began writing and editing professionally in 2001. Her experience includes copy for newspapers, journals and magazines, as well as book editing. She is also a certified lactation counselor. She holds a Bachelor of Arts in English from Mount Holyoke College, and Master's degrees in education and community psychology from the University of Massachusetts.
Photo Credits
Jupiterimages/Photos.com/Getty Images
Jupiterimages/Photos.com/Getty Images
Jupiterimages/Stockbyte/Getty Images
Buccina Studios/Photodisc/Getty Images
Fuse/Fuse/Getty Images
More Articles