How to Make Fabric Window Shutters
Although interior shutters are commonly made out of wood, you can custom make them using regular fabric. This is an inexpensive alternative to wood and allows you to completely customize the shutters with the fabric pattern of your choice. To use this technique, you do not need any sewing skills and only basic knowledge of tools. These shutters can be changed to new fabric as desired, giving many options for updating rooms whenever you like.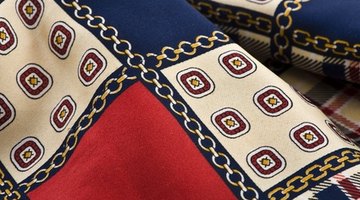 Measure the window for the shutters using your tape measure and make a note of the width of the window and the height. Keep in mind that the shutters will need to be placed on the casement of the window not inside the casement. This will help make installation easier. Divide the width measurement in half to determine the width of each individual shutter.

Cut wooden slats to fit your measurements. You can purchase slats at a local hardware store cut to size or you can use a circular saw to cut the pieces to fit. Each shutter will need four pieces of wood for the frame.

Assemble the shutter frame. Using a hand drill and wood screws piece together each shutter. The finished result should look like an open rectangle.

Wrap the fabric around the outside of the shutter. Fold in the edges to prevent fraying and to give a better exterior view of the shutter. Pull the fabric tight, fold it under and use a staple gun to secure it. Repeat this step on each side of each frame.

Attach the hinges to the shutters. Each shutter should have two hinges, one on the top and one on the bottom, of the outer side of the frame. Using the power drill and wood screws fasten the hinges.

Install the latch. Using the drill and wood screws, attach the latch on the room side of the shutter so that you can close the shutters when you want. Unhook them before proceeding to the next step.

Hang the shutters. Attach each hinge to the window casement. Use a carpenter's level to make sure that the shutters are level before screwing the hinges into the casement. Work slowly to ensure that the shutters are perfectly hung. If necessary, measure and make pencil marks on the casement where the top of the shutter should be before attaching the hinges.
References
Writer Bio
Kate McFarlin is a licensed insurance agent with extensive experience in covering topics related to marketing, small business, personal finance and home improvement. She began her career as a Web designer and also specializes in audio/video mixing and design.
Photo Credits
More Articles