How to Mount Blinds in an Arch Window
Arched windows are architecturally pleasing; they look beautiful both from the inside and the outside of the home. An arched window, however, can be a slightly tricky place to install window blinds. These type of blinds look best when using an inside mount installation. The mounting brackets are installed inside the window frame so that the sides of the blind sit flush against the inside of the window. When you know how to mount blinds in your arched window, the entire process should take just a few minutes.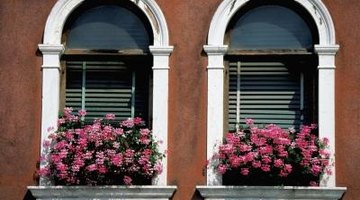 Find the sides of the window where the arch begins. Hang the rail of the blinds across this part of the window. The main part of the blinds will mount beneath the rail. The arch will mount to the top of the rail.

Hold the brackets on the inside of the window frame where you will be installing the rail. Mark through the bracket holes with pencil.

Drill into the window frame through your pencil marks. Tap a wall anchor into the holes. A wall bracket will keep the screws from stripping the drywall.

Insert the mounting screws through the holes in the brackets and into the wall anchors. Screw into place to secure the bracket to the window frame.

Snap the rail into the bracket. Swing the covers closed.

Set the arched piece on top of the bracket. Attach to the rail with the included clips. Consult the installation instructions for your particular blinds.
Check out this related video from Homesteady on Youtube.
References
Tips
Arched windows over 48 inches wide, may droop over time at the center. To keep the blinds from sagging, attach L-brackets above the spot where you will be installing the rails. Place a wood shelf across the window, attaching to both L-brackets. Attach the arch to the wood shelf.
Writer Bio
Lisa East Hunter is a consultant and freelance writer in Phoenix. Her background in marketing and technology led her to explore all avenues of writing. She is currently dividing her time between freelance writing and her consulting business. Hunter has a Bachelor of Science in management information systems and marketing.
Photo Credits
Medioimages/Photodisc/Photodisc/Getty Images
More Articles