Ideas for Separating a Basement Into Rooms
Some finished basements offer one large living space that you can divide into two or more distinct rooms. By separating your basement into individual areas, you can make the spaces more functional, accommodate privacy needs and maximize the available space. Although you could opt for a comprehensive basement remodel, you can effectively section off your basement with budget-friendly, innovative room dividers.
Peek-a-Boo Shelves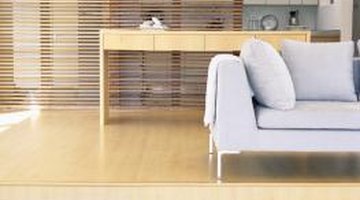 Freestanding shelving units offer a simple, functional way to visually divide a room. These peek-a-boo furniture pieces are constructed with open shelves to attractively store books and display decorative items. Shelving units allow your sightline to extend into the adjoining room through any small openings between the shelved items, avoiding a boxed-in feel. You can slide attractive woven baskets onto some of the open shelves for stashing small electronics, toys or office supplies in concealed containers. Line up two or more open shelving pieces to separate a wide basement area.
Fabric Walls
Install floor-to-ceiling drapery panels on a curtain track system that's secured to the ceiling to split your basement into individual areas. Fabric drapes offer visual privacy, as well as providing a limited sound barrier between two adjoining spaces. Use opaque, lined draperies for a thicker visual and audio room partition. For environments that don't require complete visual privacy, you can opt for translucent curtains made from lace or sheer fabrics. In addition, curtains that slide along a drapery track allow you to easily open up the divided rooms into one large space when you desire.
Stunning Screens
Portable folding screens are an easy way to instantly divide a basement area wherever you please. An Asian-inspired shoji screen is often constructed with opaque rice paper fitted onto a wood frame to provide visual privacy, as well as a decorative home accent. Freestanding paneled screens are typically created by connecting three or more separate folding panels with metal hinges. Paneled screens are often made from wood, metal, glass, textiles or plastic and are available in a variety of styles and colors to accommodate your basement decorating style and color scheme.
References
Resources
Writer Bio
Julia Klaus has been a writer and copy editor for three years. She has edited books including "Top Dollar Plumber" by Sid Southerland and is contributer to eHow. Klaus has experience writing web copy and training manuals and has a Bachelor of Arts in English as well as a Master of Arts in teaching from the University of Portland.
Photo Credits
Goodshoot/Goodshoot/Getty Images
More Articles