What Is the Difference Between Colonial & Traditional Home Styles?
Part of the thrill of decorating your home is deciding what type of decor you'd like to use, whether it's shabby chic or strictly modern. If you're interested in historical decorating styles, you may be considering Colonial and traditional home design themes. While Colonial and traditional styles overlap in some ways, these two styles are not interchangeable.
Traditional Vs. Colonial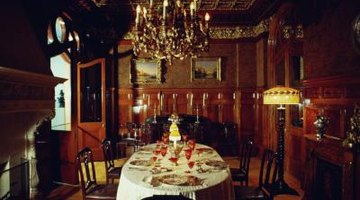 To understand the differences between traditional and Colonial styles, it's important to recognize the main elements of both styles. Traditional design style can include a wide range of design elements, but relies on hallmarks such as crown moldings, chair rails and wainscoting to create a finished, elegant look. Upholstered furnishings, elegant window treatments and understated accent pieces finish the traditional look.
Colonial style, on the other hand, references the history of the American Colonial era and incorporates the dark wood finishes, simple upholstery and copper and pewter metal accents that were popular during this time period. Colonial style can be country or more elegant.
Architecture Vs. Design
The biggest difference between Colonial and traditional style comes down to architecture and design. While Colonial is a more narrow term that usually refers to architecture and interior design styles from the American Colonial era in history, the term "traditional" does not refer to any one architectural style. Rather, the "traditional" label usually encompasses many architectural and design styles from the late 1700s up to the present and can include Colonial style. The Queen Anne and Sheraton furniture styles, for instance, are definitely traditional in style, but can also be used in Colonial decor.
Country Vs. Modern
Another important difference between Colonial and traditional styles is the incorporation of country and modern design elements. Colonial decor designs can include primitive, Early American elements, such as patchwork quilts, folk art and other country touches, but it does not have room for more modern elements, such as abstract art or shiny fabrics. Traditional decor, however, usually doesn't feature country elements, but can incorporate more modern, contemporary touches, such as using animal prints or bright fabrics, or painted wood or metal furniture.
History Vs. Adaptability
While both Colonial and traditional home decor styles are at home in period homes, traditional style is more easily adapted to modern homes. Colonial style is usually relegated to antique Colonial style homes or modern homes built in the style of Colonial architecture. Traditional style, however, is used in a broader range of home styles, from antebellum homes to midcentury ranch homes, reflecting the traditional style's ability to incorporate more design elements.
References
Writer Bio
A writer and information professional, J.E. Cornett has a Bachelor of Arts in English from Lincoln Memorial University and a Master of Science in library and information science from the University of Kentucky. A former newspaper reporter with two Kentucky Press Association awards to her credit, she has over 10 years experience writing professionally.
Photo Credits
Photos.com/Photos.com/Getty Images
More Articles