What Is a Lawson Sofa?
Created for financier Thomas Lawson near the turn of the 20th century, the Lawson sofa has clean lines reflecting his desire for a simpler, more comfortable and more modern construction than the ornate Victorian styles of the time.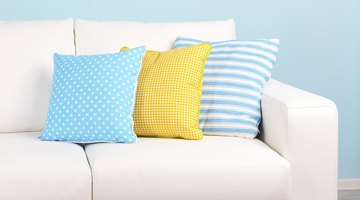 This sofa suits decors from contemporary to traditional, but the Lawson name is sometimes misapplied to styles that exhibit few if any of its characteristics. Learn to recognize key features of a Lawson sofa if you want to select this versatile classic for your space.
Tailored and Timeless
With its straight lines, the Lawson is sometimes called "boxy," but don't let that description stop you from appreciating its design. Its proportions give the sofa a tailored back about as high above the seat as the seat is deep, with arms much lower than the back. The back pillows and seat cushions are box shaped, with welts at the edges. The original Lawson design has three attached back pillows over three seat cushions. The arm can be slim and rectangular or a small roll or "sock" arm. Oversized or pillowed arms will not appear on a Lawson sofa.
Comfort for the Masses
The Lawson's average back height and seat depth accommodate many different-sized users. The pitch of the sofa's back allows your back to rest at a comfortable angle, not too upright. Fans of Lawson style appreciate the neat look and supportive feel of attached back pillows, but seek one with loose back pillows if you prefer. Because of the height of its arms, this sofa is one of the more comfortable sofas for napping. Simply prop a throw pillow against an arm and doze. The Lawson style also comes in a convertible sofa-sleeper.
Good Bones for Versatile Style
The option of straight legs lend the Lawson sofa a more modern look, while a tailored skirt leans it toward traditional decor and a ruffled skirt lends it country flair. A rectangular or "track" arm may be your choice for an urban loft and a small rolled or sock arm for a more traditional or cottage-style home. You might choose to add a number of throw pillows to suit the look you want. Triangle-shaped accent pillows complement a modern space, while square ones trimmed with fringe or cord fit a traditional seating area. Contrasting fabric on the welts, or piped edges of seats, backs and arms personalize your chosen style further.
The Chameleon of Sofas
Fabric selection is the primary way to adapt and make the Lawson your own -- if you custom-order, you'll have hundreds or perhaps thousands of fabric choices. If you desire a glam look, go for fabrics with sheen or sparkle, and select a mirrored chest or crystal lamps to accent your sofa. Keep a Lawson sleek and modern with black leather or linen, and contrast it with a rustic wood coffee table and chrome floor lamp. Use cotton florals and plaid or ticking for country cottage elegance, and flank the Lawson with tables painted in white or pastel colors. For a lodge look, chenille or nubby tweed provides cozy warmth.
References
Writer Bio
Cynthia T. Toney, a former newspaper designer, began writing in 1999 for a newsletter devoted to decorating with salvage. As advertising and marketing director for an educational publisher, she wrote copy for its website, catalogs and mailings. Toney also has been an interior decorator and is the author of a teen novel, "Bird Face." She holds a Bachelor of Arts in art education.
Photo Credits
belchonock/iStock/Getty Images
belchonock/iStock/Getty Images
More Articles