What Kind of End Tables to Pair With a Leather Sofa
In whatever space it occupies, a leather sofa is practically the room's "king," while its trusty side tables help to complete its stately setting. The right sofa and tables need to have varied features and elements that create balance and interest. Only certain end tables are worthy of placement beside your room's leather-bound leader.
Tantalizing Textures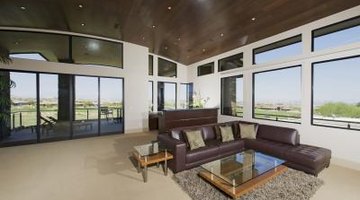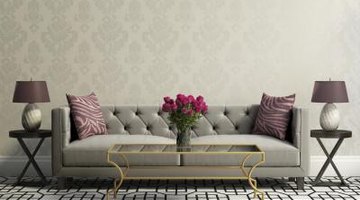 Leather's textural quality varies. Distressed leather provides a sofa with sit-down-and-sink-in farmhouse charm or rugged cowboy casualness, differing from high-gloss, high-impact leather that you'd expect to see on a couch in a minimalist home office or ultra-modern condominium. Your first end-table inclination may be to match the sofa's texture. But by placing similarly finished pieces next to each other, they visually meld, which becomes tedious or even boring. Make a warmly worn sofa sing by pairing it with contrasting tables sporting shiny metal or glass features; or flank a glossy sofa with chunky-weave rattan, vintage bamboo, burnished-wood tables or a mix thereof -- end tables don't have to match, after all.
Size Simplicity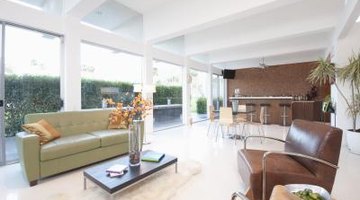 Think "big with big" and "small with small" when choosing tables to go with your leather sofa. An overstuffed leather sofa works best in a large space, especially when you flank it with beefy wood or wrought-iron side tables or even mismatched trunks, one on each end. For the daintier sofa, such as one with a low back and sleek, streamlined features, go with visually unobtrusive glass tables, compact and leggy tray tables, a simple stack of hardcover books in colors that go with the decor, or small wood crates turned on end. The table or table-like item's height should land somewhere between the sofa arm and seat height, to keep the grouping proportionate, and the reach comfortable.
Stylishly Structural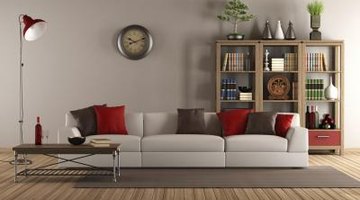 Your leather sofa's curves or lack of curves require consideration when you're choosing compatible side tables. For example, no one can call you unimaginative if you play a modern angular sofa with a straight back and narrow, boxy arms off curvy-legged Art Nouveau tables or antique claw-foot tables with round tabletops. Complement the feminine, shapely sofa that has a rounded back and bowed sides with a visually masculine, square table sporting thick, straight wood or metal legs, or a geometrically interesting Art Deco or Shaker table at each of "her" arms.
Color Connection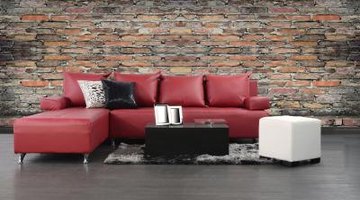 Unless you're after a monochromatic setting, such as with a glossy-white sofa flanked by satin-sheen painted cream tables, opt to sandwich your sofa between contrasting end tables. A white, pale gray or tan sofa is like the brie or gruyere between dark "rye bread" slices played by espresso, walnut or ebony tables. A few bright red, yellow or blue throw cushions add contemporary zing, while sage, petal pink or taupe pillows mellow or neutralize a strong look.
References
Resources
Writer Bio
Lorna Hordos is a home-flipping business owner and freelance writer. She writes friendly, conversational business, home and lifestyle articles for Bizfluent, azcentral, Daltile, Marazzi, Lowes, Philips Lighting, WordPress.com and numerous other publications.
Photo Credits
moodboard/moodboard/Getty Images
mihalis_a/iStock/Getty Images
moodboard/moodboard/Getty Images
archideaphoto/iStock/Getty Images
karammiri/iStock/Getty Images
More Articles