Can I Mix Different Colors of Leather Furniture in One Room?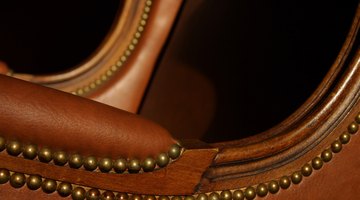 Do-it-yourself decorators frequently feel they must buy leather furnishings as a matching set. Design pros know you're no more limited to a single leather color than you are to a single fabric or wood finish. It's perfectly acceptable to mix different leathers in the same space -- or even on the same piece of furniture. The keys to making the mix work are following basic design principles and choosing pieces that share crucial common elements.
Decorate by Line
In furniture, line refers to a piece's overall shape, as well as the shapes of its different components, such as aprons, arms or legs. Clean-lined furniture has straight, simple shapes and little ornamentation. Curvier pieces may feature circles, scrolls or scallops, and they're sometimes embellished with carved or applied ornamentation.
As long as your leather pieces share similar lines, they don't need matching colors to link them together. For example, an Arts and Crafts Morris chair complements a contemporary track-arm sofa because they both have clean, straight lines and squared arms. You can pair a cabriole-legged wing chair with a carved Victorian settee because the outward curve of the chair's leg echoes the round shape of the settee's back.
Decorate by Scale
Scale is the way the size of something relates to the size of something else. A dainty Victorian parlor chair never looks right in an oversized den with an overstuffed, pillow-back sofa because its scale is too small for the sofa and the space. Furnishing a room with upholstered pieces of compatible scales creates a cohesive look, which leaves you more leeway to mix leather colors.
If the scales of two upholstered pieces, such as chairs, are only slightly mismatched, use different leather colors to balance the visual weight. Cover the larger piece in neutral-colored leather with a matte finish. Upholster the smaller-scale piece in bold-colored textured leather, perhaps faux crocodile, with a shiny finish. The texture and color give the piece presence and draw the eye. The shiny finish reflects light, which makes the piece look larger.
Decorate by Color
Leather colors with the same color temperature tend to look good together in the same space. Chocolate brown and cognac leathers work together because they're both warm colors. Navy and taupe harmonize because they're both cool. With its neutral undertone, true espresso mixes well into either group.
For more colorful leathers mixes, refer to a color wheel. Complementary colors sit across from each other on a color wheel and analogous colors sit adjacent. Both look good as leather pairings if you vary the intensity so the colors don't complete. For a complementary red-and-green mix, for example, opt for oxblood and sage or true red and olive. With an analogous red-and-violet mix, darken the red to burgundy and lighten the violet to lilac.
References
Writer Bio
A writer and entrepreneur for over 40 years, J.E. Myers has a broad and eclectic range of expertise in personal computer maintenance and design, home improvement and design, and visual and performing arts. Myers is a self-taught computer expert and owned a computer sales and service company for five years. She currently serves as Director of Elections for McLean County, Illinois government.
Photo Credits
Hemera Technologies/AbleStock.com/Getty Images
Hemera Technologies/AbleStock.com/Getty Images
More Articles