What Furniture Looks Good With a Brass Bed?
A brass bed is a glamorous and dramatic addition to any bedroom. When furnishing the rest of the room, you will need to select pieces that complement the style of the bed while creating a unified feel in the space. Your design style may vary; for example, you may prefer pieces with low, clean lines, or you may want to play up more traditional curves and trim work. However, the finish of the furniture is an important consideration as well.
Painted Wood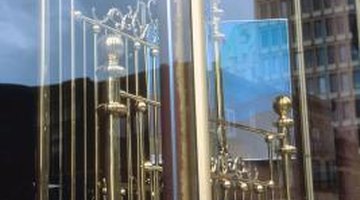 For a soft romantic addition to your bedroom, look for painted furniture that will complement the color of the brass bed frame and headboard. For example, you can create a cottage or "shabby chic" feel to the room by selecting wood furniture painted in shades of white, cream or even yellow or blue. Muted colors work best to create an open and inviting space. However, for a more traditional and dramatic look, choose painted wood furniture in rich shades of green, plum or red to create a bold contrast to the brass of the bed.
Metallic Accents
If you are looking for ways to tie in the look of the brass bed with the rest of the room, look for pieces with metallic accents. For example, look for armoires with brass or gold hinges that contrast natural or painted wood. Also look for nightstands with metallic drawer pulls or accent pieces that will make the brass bed look like it is part of a set, not just a standalone piece. Add metallic accents yourself by emphasizing trim work and lines to the furniture with metallic paint. A thin-tipped paintbrush and a small tube of gold or silver paint can go a long way in creating a cohesive look in the space.
Glass Pieces
To create a dramatic look in the space, look for glass additions to the bedroom, particularly those with a reflective quality. For example, choose a nightstand that has mirrored panels or hardware. Glass will reflect the look of the brass bed and add presence to the room. Mirrored furniture has the potential to look both retro and modern, depending on your chosen design scheme. From nightstands to benches, lamps and room accessories, reflective pieces are a bold statement in the bedroom and can be used to increase the amount of light in a room.
Antique Pieces
A brass bed is often used to create an old world, sophisticated look in a bedroom. To stay in keeping with this aesthetic, look for antique pieces to complement the style. For example, an art deco armoire complete with geometric-inspired trim work is an option, as is rounded 1970's-inspired lines for nightstands or vanity tables. Scour thrift stores or antique stores for the right piece to coordinate with your room design, or look for newer reproduction pieces that match your desired room decor.
References
Writer Bio
Liza Hollis has been writing for print and online publications since 2003. Her work has appeared on various digital properties, including USAToday.com. Hollis earned a degree in English Literature from the University of Florida.
Photo Credits
Jupiterimages/Photos.com/Getty Images
More Articles