How to Make a Metal Shabby Chic Bed
Shabby chic decor blends cozy cottage pieces with well-worn antique items to create a look of worn elegance. If you can't afford antiques, use paint to turn bargain furniture into replicas of old classics.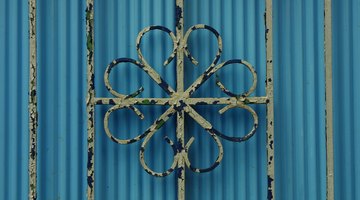 Transform an outdated brass bed frame into a vintage treasure by using a faux painting technique that makes a new paint job look old. Using a commercial antiquing patina paint over fresh paint, you can make a metal headboard and footboard the focal point in your shabby chic bedroom.
Things You Will Need
Dropcloth
Sandpaper, fine grade
Old cloths
Spray paint for metal
Sponge
Antiquing patina paint
Clear coat spray paint
Tip
If your metal bed frame already shows signs of chipping paint, natural patina or other time-worn features, consider sanding down any rough edges, then simply applying the clear coat spray to preserve this natural look. It will fit perfectly into a shabby chic bedroom.
Warning
When using spray paint, always work in a well-ventilated area.
Clean the entire bed frame using soap, water and a cloth. Pay particular attention to detailed areas, corners and joints. Let the metal bed dry completely.

Sand the surface of the metal using fine grade sandpaper. Don't try to take the existing finish off, but rather create a rough surface for the new coat of paint to adhere to. Wipe off any flakes and dust with an old cloth.

Prop the metal pieces upright and apply a coat of metal spray paint. Use long, even strokes to prevent drips. Work on one side of the metal bed at a time. Let the pieces dry completely, about 24 hours.

Turn the metal bed pieces around and spray paint the other side. Touch up any areas you missed on the first side at this time. Allow them to dry completely.

Dip the sponge in the commercial antiquing patina. Apply the patina to the painted metal bed pieces, paying particular attention to any decorative elements, small spaces and corners. Lightly wipe off the patina stain with a cloth, leaving some places where the stain has streaked and gathered. Allow it to dry completely, about 24 hours.

Apply the clear coat spray to the metal pieces and allow it to dry completely, about 24 hours. Carry the pieces to the bedroom and reassemble.
References
Writer Bio
Jenna Marie has been editing and writing professionally since 1993. Her editing background includes newspapers, magazines and books, and her articles have appeared in print and on websites such as Life123 and AccessNurses. She specializes in writing about parenting, frugal living, real estate, travel and food. Her nonfiction book was published in 2008. She earned a Bachelor of Science in journalism from Utah State University.
Photo Credits
Photos.com/Photos.com/Getty Images
Photos.com/Photos.com/Getty Images
More Articles