How to Paint a Metal Daybed
If you have a metal daybed in good condition that simply needs a little refreshing, a simple coat of paint can make it look practically new again. Even a piece which has succumbed to minor rusting can be given a new life with just a little surface preparation before applying the paint.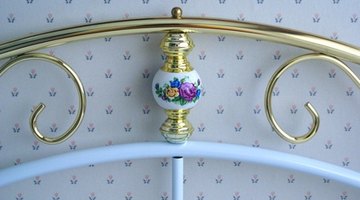 Spray paint for metal is available in many colors, giving you the option to match other furniture in your room or to combine colors for a more creative look. This inexpensive method allows you to update the appearance of your metal daybed whenever you wish.
Things You Will Need
Spray paint for metal
Clean rags
Household cleaner
Coarse sandpaper (80 grit)
Fine sandpaper (150 grit)
Dropcloth
Tip
Clean the paint can spray valve upon completion to prevent clogging by holding it upside down while spraying for 5 seconds. Test the color of your spray paint before starting your project by spraying on an inconspicuous area on the bed or on a similar piece of scrap material.
Wipe away any loose dust and dirt from the metal bed using dry, clean rags. Spray any stuck-on dirt with household cleaner and wipe it away thoroughly with the rags.

Allow the metal to dry completely since a moisture barrier between the metal and paint can hinder paint adhesion.

Remove any surface rust from the metal bed using the 80-grit, coarse sandpaper, then lightly rub all the metal surfaces with the 150-grit, fine sandpaper. Wipe away any loose material with a clean rag.

Place the bed on a drop cloth outdoors or in a well-ventilated interior area.

Shake the spray paint can for at least 1 minute to thoroughly mix the paint.

Position the spray can 10 inches away from the bed and apply thin coats of paint over the entire surface. Begin spraying before the paint touches the bed and wait until you are past the bed surface to release the button. Make even passes from side to side, overlapping each one by one-third.

Let the paint dry. Wait the recommended period of time, as printed on the paint can, before applying another coat if complete coverage was not achieved during the first attempt.
References
Writer Bio
Based in Washington, Mariah Elaine has been a freelance writer since 2010. She has professional writing experience in a variety of media including Navy correspondence, business documents and research reports. Elaine holds a Bachelor of Arts in natural science/mathematics from Thomas Edison State College.
Photo Credits
bed head made of metal. wall paper image by L. Shat from Fotolia.com
bed head made of metal. wall paper image by L. Shat from Fotolia.com
More Articles