How to Paint Metal Bunk Beds
Unlike wood, metallic surfaces are slick and nonporous, making them unsuitable for paint adhesion. If you try to paint over metal bunk beds with ordinary bonding primer and paint, you will inevitably see flaking in a short amount of time.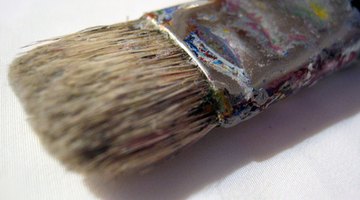 Fortunately, you can paint a metal bunk bed if you know the proper way to abrade the surface to promote adequate adhesion. You should also know the proper application techniques that can prevent brush strokes in the final finish.
Things You Will Need
Heavy-duty fabric drop cloths
Mineral spirits
Rags
Blue painter's tape
Etching primer
2- to 4-inch latex paintbrush
Oil-based paint
2- to 4-inch oil-based paintbrush
Tip
Over-application is the most common reason for brush strokes in the final finish.
Warning
Never attempt to paint a metal bunk bed without abrading the surface with an etching primer first or you will end up with a finish that won't last.
Set up work space outdoors or in a ventilated area like an open garage.

Remove the mattress and all bedding.

Dampen a rag with mineral spirits, and wipe down the metal bunk bed. Allow 10 minutes for the mineral spirits to dry.

Cover parts of the metal bunk bed you don't want painted with painter's tape. Protect flooring with fabric drop cloths.

Apply a very thin coat of etching primer using a 2- to 4-inch latex paintbrush. Allow the primer to cure for four hours, effectively abrading the metal to ensure paint adhesion.

Wash the latex paintbrush using water.

Apply a very light coat of oil-based paint to the metal bunk bed using an oil-based paintbrush. Do not attempt to cover the surface in the first coat as this will lead to brush strokes in the final finish.

Allow the paint to dry for two hours and then apply another very light coat of paint. Allow the second coat to dry for two hours and apply additional coats until the etching primer is completely covered.

Clean the oil-based paintbrush with mineral spirits.
Resources
Writer Bio
Ryan Lawrence is a freelance writer based in Boulder, Colorado. He has been writing professionally since 1999. He has 10 years of experience as a professional painting contractor. Lawrence writes for High Class Blogs and Yodle. He has a bachelor's degree in journalism and public relations with a minor in history from the University of Oklahoma.
Photo Credits
paintbrush image by askthegeek from Fotolia.com
paintbrush image by askthegeek from Fotolia.com
More Articles