How to Repair Wrought Iron Chairs and Outdoor Furniture
Wrought-iron furniture adds an old-fashioned flair to any outdoor space. Iron furniture is very susceptible to rust, and your furniture can become damaged as a result. However, repairing your wrought-iron furniture is easier than you may think. With some hard work and a few inexpensive items, your furniture can look like it did the day you purchased it.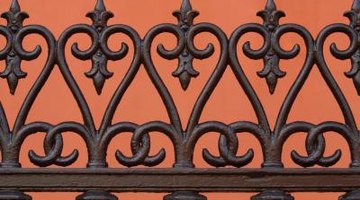 Step 1
Remove all paint and rust using either sandpaper or a chemical remover. Both items are available at hardware and home improvement stores. For severely rusted wrought iron, a chemical remover is best. When you are finished, you want to be able to see the silver iron underneath.
Step 2
Wash the wrought-iron furniture thoroughly to remove any excess paint, rust or sandpaper debris. Allow the furniture to dry completely.
Step 3
Spray or paint on a rust-resistant primer that is made especially for metal surfaces. Again, these primers are available at hardware and home improvement stores. This will protect your furniture from future rust.
Step 4
Paint the wrought-iron furniture with paint made especially for metal surfaces. Do not use house paint, as it will peel very easily on metal surfaces.
References
Writer Bio
Lacey Roop's articles have been printed in various print magazines such as "UpCountry" where she was a feature writer for four years. She has written pieces for "Bluegrass Now" where her work graced the cover on two occasions. Lacey has a BA in English and has been writing professionally since 2003.
Photo Credits
Hemera Technologies/AbleStock.com/Getty Images
More Articles